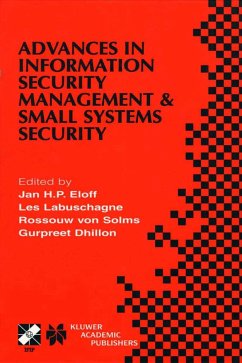 Produktdetails
IFIP Advances in Information and Communication Technology 72
2001
Seitenzahl: 216
Erscheinungstermin: September 2001
Englisch
Abmessung: 228mm x 179mm x 19mm
Gewicht: 511g
ISBN-13: 9780792375067
ISBN-10: 0792375068
Artikelnr.: 21735181
Preface. Acknowledgements. Reviewers. Reviewed papers. 1. Web Assurance: Information Security Management for e-commerce; L. Labuschagne. 2. A Model and Implementation Guidelines for Information Security Strategies in Web Environments; C. Margaritis, N. Kolokotronis, P. Papadopoulou, P. Kanellis, D. Martakos. 3. A Three-dimensional Framework for Security Implementation in Mobile Environments; B.R. Vinaja. 4. Maintaining Integrity within Mobile Self Protecting Objects; W. Brandi, M. Olivier. 5. Building on Solid Foundations: An Information Security Case Study; E. Roos Lindgreen, J.A. Cohen, H. de Boer, G. Uit de Bosch, C. van Rinsum. 6. Using Gypsie, Gynger and Visual GNY to Analyse Cryptographic Protocols in SPEAR II; E. Saul, A. Hutchison. 7. Security Vulnerabilities and System Intrusions - The Need for Automatic Response Frameworks; S.M. Furnell, M. Papadaki, G. Magklaras, A. Alayed. 8. A New Paradigm For Adding Security Into IS Development Methods; M. Siponen, R. Baskerville. 9. Using Soft Systems Methodology to Facilitate the Development of a Computer Security Teaching Module; J. Biggam, A. Hogarth. 11. Transaction Based Risk Analysis - Using Cognitive Fuzzy Techniques; E. Smith, J.H.P. Eloff. 12. A Security Method for Healthcare Organisations; M. Warren, W. Hutchinson. 13. Interpreting Computer-Related Crime at the Malaria Research Center: A Case Study; G. Dhillon, L. Silva. 14. Intrusion Detection Systems: Possibilities for the Future; K.A. Forcht, C. Allen, B. Brodman, D. Corning, J. Kouns. 15. Implementing Information Security Management Systems; F. Björck. Index of contributors.