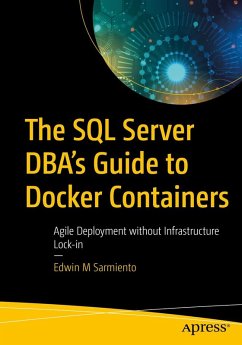 Andere Kunden interessierten sich
auch
für

This book teaches you how to install and configure Docker on both Windows Server and Linux operating systems. You will learn the most common Docker commands that you need to know as a DBA to deploy and manage SQL Server on containers. Support for SQL Server on Linux is new, and this book has your back with guidance on creating Docker images specifically for deployment to a Linux platform. Included is coverage of key Linux commands needed to manage SQL Server on that operating system. By the end of the book you will have learned how to create your own custom SQL Server container images with configuration settings that are specific to your organization, that are capable of being deployed to both Windows Server and Linux.
What You Will Learn

Create Docker containers for agile deployment of SQL Server
Run multiple SQL Server instances on a single Linux machine
Deploy custom images specific to your organization's needs
Know the benefits and architecture of container technology
Install and configure Docker on Windows Server and Linux
Manage and persist SQL Server data in Docker containers
Who This Book Is For
Intermediate to senior SQL Server DBAs who are familiar with SQL Server on Windows and want to build their existing skills to deploy and manage SQL Server on Linux and through Docker containers. Readers should have a grasp of relational database concepts and be comfortable with the Transact-SQL language.

Produktdetails
Verlag: Apress / Springer, Berlin
Artikelnr. des Verlages: 978-1-4842-5825-5
1st ed.
Seitenzahl: 372
Erscheinungstermin: 30. Mai 2020
Englisch
Abmessung: 254mm x 178mm x 20mm
Gewicht: 699g
ISBN-13: 9781484258255
ISBN-10: 1484258258
Artikelnr.: 58585128
1. Introduction to Containers 2. Install and Configure Docker on Windows Server 2016 3. Install and Configure Docker on Linux 4. The Docker Ecosystem 5. Docker Images and Containers 6. Managing and Administering Containers 7. Persisting Data 8. Working with SQL Server on Linux
9. Creating Custom SQL Server on Windows Container Images 10. Creating Custom SQL Server on Linux Container Images 11. Guide to Docker Networking for SQL Server DBAs 12. Appendix A. Building a Personal Lab Environment