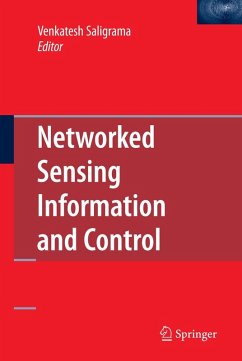 Andere Kunden interessierten sich
auch
für

While significant research and development effort over the last decade in sensor development, physical layer transmission and networking infrastructure has laid the initial groundwork for practical deployment, realization of such distributed sensing systems is still in its infancy. The principle challenges from a systems-level perspective arise due to the difficulty in realizing the objectives of inferencing and control tasks for a distributed dynamical environment through an underlying power/bandwidth constrained ad-hoc networked infrastructure. The main challenge can be summarized as follows: How to make decisions under uncertainty, which arises from spatially distributed dynamic information when sharing distributed data is limited by networking constraints.
The book presents research on informational and mathematical aspects of networked sensing systems. The importance and timeliness of the book is evidenced by the explosion of several independent special sessions devoted to specific aspects of sensor networks in reputed international conferences. Despite these efforts the focus has been on specific and isolated aspects of networked sensing and there is a need for cross-disciplinary efforts to integrate ideas from the various research communities. The book presents research work conducted by internationally reputed researchers from control, information theory and signal processing focused on the common theme of distributed sensing, inferencing, and control over networks. On account of the contemporaneous nature of the topic, we have no doubt that there will significant interest evinced by the both the research and industrial community at large.
Produktdetails
Artikelnr. des Verlages: 11791249
Erscheinungstermin: Februar 2008
Englisch
Abmessung: 241mm x 160mm x 22mm
Gewicht: 653g
ISBN-13: 9780387688435
ISBN-10: 0387688439
Artikelnr.: 21346064
Blind Localization.- Blind Calibration of Networks of Sensors: Theory and Algorithms.- Sparse multidimensional scaling for blind tracking in sensor networks.- Distributed Computation over Unreliable Communication Networks.- Error Exponents for Decentralized Detection in Tree Networks.- Function Computation in Wireless Sensor Networks.- Network Coding for Distributed Storage in Wireless Networks.- Rate Constrained Field Reconstruction.- Distributed Field Estimation with One-bit Sensors.- On the Number of Bits to Encode the Outputs of Densely Deployed Sensors.- Separation Theorems And Partial Orderings For Sensor Network Problems.- Dynamics& Control over Communication Networks.- Toward the Design of a Transport Layer for Networked Control Systems.- Reliable Distributed Estimation with Intermittent Communications.- Smart Sleeping Policies for Energy-Efficient Tracking in Sensor Networks.- Distributed coverage of nonconvex environments.