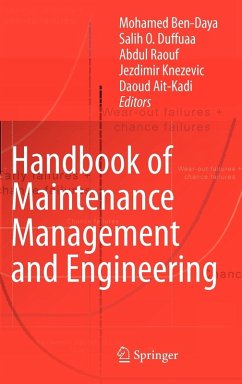 Andere Kunden interessierten sich
auch
für
Handbook of Maintenance Management and Engineering covers a wide range of topics in maintenance management and engineering. It includes extensive references to the theoretical foundations, recent research and future directions of this important subject.

Using applications and examples which reflect the growing importance of maintenance, this book presents readers with an inter-disciplinary perspective on topical issues which affect any organization engaged in manufacturing, process, or service industry, no matter how large or small.

The Handbook of Maintenance Management and Engineering features both fundamental and applied works from across the whole maintenance spectrum. It will provide professionals with the solutions and management skills needed to evaluate and to continuously improve maintenance systems. This handbook will also be an invaluable resource for researchers and graduate students working in this area.
---
To be able to compete successfully both at national and international levels, production systems and equipment must perform at levels not even thinkable a decade ago. Requirements for increased product quality, reduced throughput time and enhanced operating effectiveness within a rapidly changing customer demand environment continue to demand a high maintenance performance. In some cases, maintenance is required to increase operational effectiveness and revenues and customer satisfaction while reducing capital, operating and support costs. This may be the largest challenge facing production enterprises these days. For this, maintenance strategy is required to be aligned with the production logistics and also to keep updated with the current best practices. Maintenance has become a multidisciplinary activity and one may come across situations in which maintenance is the responsibility of people whose training is not engineering. This handbook aims to assist at different levels of understanding whether the manager is an engineer, a production manager, an experienced maintenance practitioner or a beginner. Topics selected to be included in this handbook cover a wide range of issues in the area of maintenance management and engineering to cater for all those interested in maintenance whether practitioners or researchers. This handbook is divided into 6 parts and contains 26 chapters covering a wide range of topics related to maintenance management and engineering.
Produktdetails
Verlag: Springer, Berlin
Artikelnr. des Verlages: 11763253
Erscheinungstermin: September 2009
Englisch
Abmessung: 244mm x 166mm x 48mm
Gewicht: 1256g
ISBN-13: 9781848824713
ISBN-10: 1848824718
Artikelnr.: 25932262
Maintenance Organization.- Maintenance Productivity and Performance Management.- Failure Statistics.- Failure Mode and Effect Analysis.- Maintenance Control.- Guidelines for Budgeting and Costing Planned Maintenance Services.- Simulation Based Approaches for Maintenance Strategies Optimization.- Maintenance Forecasting and Capacity Planning.- Integrated Spare Parts Management.- Turnaround Maintenance.- Maintenance Planning and Scheduling.- Models for Production and Maintenance Planning in Stochastic Manufacturing Systems.- Inspection Strategies for Randomly Failing Systems.- System Health Monitoring and Prognostics - A Review of Current Paradigms and Practices.- Applied Maintenance Models.- Reliability Centered Maintenance.- Total Productive Maintenance.- Warranty and Maintenance.- Delay Time Modeling for Optimized Inspection Intervals of Production Plant.- Integrated e-maintenance and Intelligent Maintenance Systems.- Maintainability & System Effectiveness.- Safety and Maintenance.- Maintenance Quality and Environmental Performance Improvement: An Integrated Approach.- Industrial Asset Maintenance and Sustainability Performance: Economic, Environmental, and Societal Implications.- Human Reliability and Error in Maintenance.- Human Error in Maintenance - A Design Perspective.