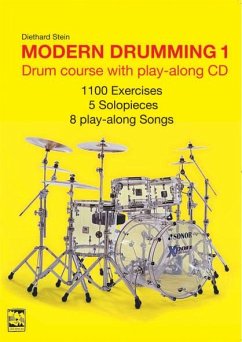 Andere Kunden interessierten sich
auch
für
Produktdetails
Verlag: Leu-Verlag
Seitenzahl: 175
Erscheinungstermin: Juli 2011
Englisch
Abmessung: 298mm x 212mm x 13mm
Gewicht: 493g
ISBN-13: 9783897751286
ISBN-10: 3897751283
Artikelnr.: 33680174
About this Book. The Drum Set. How to Tune your Drum Set. The Drum Notation. The Rhythmic Note Value. How to Hold the Stick with Your Hand. Foot Techniques. The Timing. The Metronome. The Counting. Applicable and Hands
On Exercises. Basics Part 1 Standard Rhythms. Rock. Hi
hat: eighth notes. Slow Rock. Hi
hat: sixteenth notes, one
handed. Philly Sound. Hi
hat: sixteenth notes, both hands. Variations of Snare Drum and Bass Drum. Snare Drum Ghost Notes. Blues Rock.Hi
hat: triplet eighth notes. 12/8 Rhythms. Shuffle. Half
Time Shuffle. SlowiRock/Funk.Hi
hat: quarter notes. Off Beat Funk/Rock.Hi
hat: eighth notes played at beat "+". Funk Systems. A number of different patterns played on hi
hat and ride cymbal. Using Systems and Reading Exercises for Rhythms. Reading Exercise. Part 2 The Different Note Values and their Use for Drummers. Fill Ins Paradiddle. Accents: Application on the Drum Set. Reading Exercises. Samples of Combinations. LickHi
Hat Technique "open" and "close". Part 3 Combinations of Rhythms + Fill
Ins. Part 4 Double Bass Drum. Part 5 Popular Standard Rhythms. Latin, World & Ethnic Rhythms. Part 6 Drum Solos
Some Notes. Solo 1: "Take It". Solo 2: "Facet". Solo 3: "Take The Blues". Solo 4: "Groove It". Solo 5: "HardControl". Part 7 Play
Along Songs. Some Notes. Song 1: "Wild Rockin' ". Song 2: "California Sunshine". Song 3: "I've Got The Blues". Song 4: "L.A. Groove". Song 5: "Play The Blues. Song 6: "Hidden Target". Song 7: "All Day Long". Song 8: "Metal Battle". Part 8 Rudiments
Introduction. The Rudiments. AppendixEquipment. Sound Properties of Drums, Heads, Cymbals and Sticks. Hearing Care Practice. E
Drums/Roland V
Drums. Music Magazines worth Buying. Recommended Books. Credits.