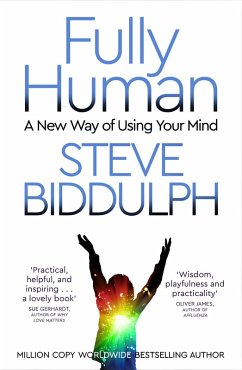 Andere Kunden interessierten sich
auch
für


Becoming fully alive is something that deep down we yearn for. We are so far away from being 'the possible human.' Neuroscience indicates that we just don't use what we've got, waiting there just below the surface, this book shows you how. Our problems with anxiety and mental health, our shattered families, our burdens of trauma personal and planetary, the terrible distortions of masculinity we have suffered for centuries, the simple lack of joy and aliveness that defines modern life - all are all swept away with this astonishing toolbox for re-activating the powers of our body-mind system. Neuroscience and therapy have arrived at a new threshold of personal liberation.

A lifetime working with trauma and healing has led Steve Biddulph in his final stage of life, to this remarkable synthesis. It's his best, most shattering and powerful book ever. Deeply personal, straight talking, funny and practical, these insights can be taught to a five year-old, but can transform the most damaged and shut down adult.

Its what the world most needs right now. For us to become Fully Human.

We are heart, instinct, and spirit, as much as we are brain. The brain is a bit of a prison really, and its time we broke out. We are a wild creature, loving, connected and powerful and that's just what the world needs us to be.
Produktdetails
Artikelnr. des Verlages: 75866
Main Market Ed.
Seitenzahl: 320
Altersempfehlung: ab 18 Jahre
Erscheinungstermin: 27. Mai 2021
Englisch
Abmessung: 234mm x 153mm
ISBN-13: 9781509884759
ISBN-10: 1509884750
Artikelnr.: 59994483