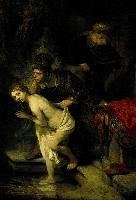 Andere Kunden interessierten sich
auch
für
---
Dieser Download kann aus rechtlichen Gründen nur mit Rechnungsadresse in A, B, BG, CY, CZ, D, DK, EW, E, FIN, F, GR, HR, H, IRL, I, LT, L, LR, M, NL, PL, P, R, S, SLO, SK ausgeliefert werden.
Produktdetails
Verlag: Springer-Verlag GmbH
Seitenzahl: 674
Erscheinungstermin: 12.12.2013
Englisch
ISBN-13: 9781402057861
Artikelnr.: 43604605
Preface.- Bibliographical and other Abbreviations.- Essays:.- I. Towards a Reconstruction of Rembrandt's Art Theory.- II. An Illustrated Chronological Survey of Rembrandt's Small-Scale 'Histories': Paintings, Etchings and a Selection of Drawings, with Remarks on Art-Theoretical Aspects, Function and Questions of Authenticity.- III. Rembrandt's Prototypes and Pupils' Production of Variants.- IV. On Quality: Comparative Remarks on the Functioning of Rembrandt's Pictorial Mind.- V. More than One Hand in Paintings by Rembrandt.- Catalogue of the Small-Scale History and Genre Paintings 1642-1669 by Rembrandt and his Pupils.- Corrigenda et Addenda.- Indexes.