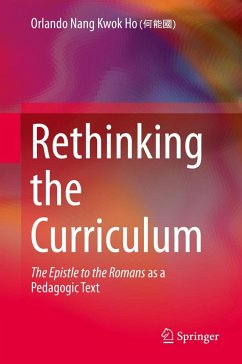 Andere Kunden interessierten sich
auch
für


This book is relevant for anyone with a core fascination about truths, values, epistemologies, life, spirituality, and holistic human development. It can also be used as a textbook or a reference in a number of fields including counselling, psychology, translation, cultural studies, and theology.


Produktdetails
Verlag: Springer / Springer, Berlin
Artikelnr. des Verlages: 978-981-10-8901-5
1st ed. 2018
Erscheinungstermin: 26. Dezember 2018
Englisch
Abmessung: 241mm x 160mm x 29mm
Gewicht: 792g
ISBN-13: 9789811089015
ISBN-10: 9811089019
Artikelnr.: 51089109
1 Introduction: Reading and teaching The Epistle to the Romans .- 2 Making sense of a religious text: Methods and socio-epistemic divides in reading and teaching.- 3 Contextualizing interactions and teachings: Who were the learners?.- 4 Greco-Roman realities as perennials: The Law, the Righteousness, and the irrepressible Questionning.- 5 Understanding faith and spirituality: The origin, the epistemic, and the conduct.- 6 Philosophical anthropology: Rom 6 and Rom 7 as theoretical necessities.- 7 Teaching thinking across boundaries: Making sense of fates, identities, and heritages.- 8 The Good beyond the Law: Routines of life, values, and spirituality.- 9 Transforming life-schemas: Vicissitudes, pedagogic vision, and curriculums.- 10 Spiritual education, hope, and faiths: The one-dimensional man, pedagogic tunnel vision.- 11 The Epistle as a pedagogic text for educators: Life, values, spirituality, and Humanity.- 12 Rethinking the Curriculum: Learning and Teaching Romans then and now.- 13 Epilogue: From departmentalism to holistic education that embraces spirituality.
"This book sets out to challenge some well-established views on Romans. ... it seeks to engage with a modern scientific mind-set operating with an equally closed set of values. A number of perfectly valid points are made in this study, such as the need to appreciate more fully the perspective of early readers rooted in a slave-owning culture which celebrated violence." (Alan Le Grys, Journal for the Study of the New Testament, Vol. 41 (5), August, 2019)