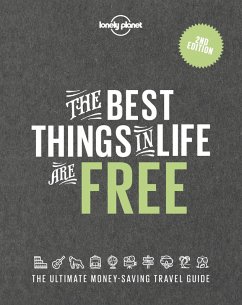 Andere Kunden interessierten sich
auch
für
The Best Things in Life are Free
is the ultimate guide for travellers who want to find the best value for their next trip. From parks, museums and exercise classes that are free, to insider ideas on food and drink experiences offered at great value. Continent by continent, our on-the-ground experts provide planning tips plus plenty of recommendations to pinpoint bargains.
Presented in a beautiful hardback format that features details such as debossing and foil on the cover, this is the perfect book for any traveller on a budget that's wanting to get the best bang for their buck.
Featuring money-saving tips for 130 cities and regions across 85 countries
Each continent has its own chapter that features a toolkit with an introduction to its top budget destinations as well as transport and accommodation information. Themed experiences include Arts & Culture; Festivals & Events; Food & Drink; Outdoors & Adventure; Wellness; and Wildlife Encounters.
Africa
Recommendations for 17 countries including: Egypt, Mauritius, Morocco, South Africa, Tanzania
Special feature:
- Africa's Best Affordable Wildlife Encounters
Asia
Recommendations for 18 countries including: China, India, Japan, Malaysia, Singapore, Thailand
Special features:
- Terrific Temples at Tiny Prices
- Asia's Best Cheap Gourmet Grub
- Asia's Best Discount Wildlife Encounters
- Best Wet & Wild Activities
- Asia's Best Low-Cost Treks
Europe
Recommendations for 22 countries including: France, Iceland, Italy, Norway, Portugal, Spain
Special features:
- Europe's Best Places to Escape a Crowd
- Europe's Best Free Museums & Galleries
- Food-Market Magic
- Europe's Best Wild Swimming
- Europe's Best Tours By Public Transport
- Europe's Best Free Walking Tours
North & Central America
Recommendations for 10 countries including: USA, Belize, Canada, Costa Rica, Nicaragua
Special features:
- Top 10 All-American Adventures
- Best Street Food
- Best National Park Wonders
- Free Sports Experiences
South America
Recommendations for 10 countries including: Argentina, Brazil, Chile, Peru, Uruguay
Special features:
- Ruins That Won't Wreck Your Budget
- Wine Tasting on a Budget
- How to Party at Carnival in Rio
- South America's Wildest Experiences
Oceania
Recommendations for 8 countries including: Australia, Fiji, French Polynesia, New Zealand, Tahiti
Special features:
- Top Cultural Encounters
- Best Free Walks
- Best Aquatic Adventures
About Lonely Planet: Lonely Planet is a leading travel media company, providing both inspiring and trustworthy information for every kind of traveller since 1973. Over the past four decades, we've printed over 145 million guidebooks and phrasebooks for 120 languages, and grown a dedicated, passionate global community of travellers. You'll also find our content online, and in mobile apps, videos, 14 languages, armchair and lifestyle books, ebooks, and more, enabling you to explore every day.