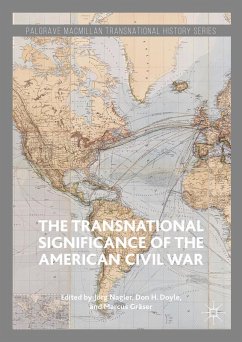 Produktdetails
Palgrave Macmillan Transnational History Series
Artikelnr. des Verlages: 978-3-319-40267-3
1st ed. 2016
Seitenzahl: 268
Erscheinungstermin: 12. Oktober 2016
Englisch
Abmessung: 216mm x 153mm x 19mm
Gewicht: 469g
ISBN-13: 9783319402673
ISBN-10: 3319402676
Artikelnr.: 44982374
.Introduction: The Electric Chain of Transnational History Jörg Nagler, Don Doyle and Marcus Gräser.-.Chapter 1 Free Soil, Free Labor, Free Seas?: Civil War Statecraft and the Liberal Quest for Oceanic Order Robert Bonner.-.Chapter 2 The American Civil War and the Transatlantic Triumph of Volitional Citizenship Paul Quigley.-.Chapter 3 Lincoln as the Great Educator: Opinion and Educative Liberalism in the Civil War Era Leslie Butler.-.Chapter 4 Southern Wealth, Global Profits: Cotton, Economic Culture, and the Coming of the Civil War Brian Schoen.-.Chapter 5 International Finance in the Civil War Era Jay Sexton.-.Chapter 6 Uprooted Emancipators: Transatlantic Abolitionism and the Politics of Belonging Mischa Honeck,.-.Chapter 7 Africa and the American Civil War: The Geopolitics of Freedom and the Production of Commons Andrew Zimmerman.-.,Chapter 8 The United States, Italy, and the Tribulations of the Liberal Nation Tiziano Bonazzi.-.Chapter 9 Nation-Building, Civil War, and Social Revolution in the Confederate South and the Italian Mezzogiorno, 1860-1865 Enrico Dal Lago.-.Chapter 10 Race and Revolution: The Confederacy, Mexico, and the Problem of Southern Nationalism Andre M. Fleche.-.Chapter 11 Tocqueville's Prophecy: The United States and the Caribbean, 1850-1871 Nicholas Guyatt.-.Chapter 12 Reconstructing Plantation Dominance in British Honduras: Race and Subjection in the Age of Emancipation Zach Sell.