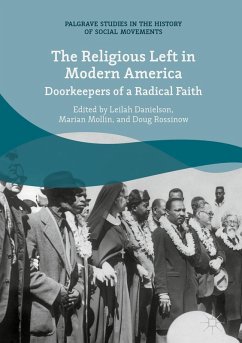 Produktdetails
Palgrave Studies in the History of Social Movements
Artikelnr. des Verlages: 978-3-319-73119-3
1st ed. 2018
Seitenzahl: 320
Erscheinungstermin: 28. Mai 2018
Englisch
Abmessung: 216mm x 153mm x 22mm
Gewicht: 536g
ISBN-13: 9783319731193
ISBN-10: 331973119X
Artikelnr.: 50030659
Chapter 1: Introduction; Leilah Danielson, Marian Mollin, and Doug Rossinow.Chapter 2: The Other Social Gospelers: The Working-Class Religious Left, 1877-1920; Janine Giordano Drake.Chapter 3: The Social Gospel, the YMCA, and the Emergence of the Religious Left after World War I; Christopher Evans.Chapter 4: Judaism, Yiddish Peoplehood, and American Radicalism; David Verbeeten.Chapter 5: Dorothy Day, Religion, and the Left; Nicholas Rademacher.Chapter 6: "Saints for this Age": Religion and Radicalism in the American Century; Leilah Danielson.Chapter 7: Resisting Jim Crow Colonialism: Black Christianity and the International Origins of the Civil Rights Movement; Sarah Azaransky.- Chapter 8: To Create Such a Crisis and to Foster Such a Tension: African American Religious Conceptions of the State; Doug Thompson.- Chapter 9: The Catholic Interracial Council and Mexican American Civil Rights in Iowa, 1952-1974; Felipe Hinojosa.Chapter 10: Black Power/Black Faith: Rethinking the "De-Christianization" of the Black Freedom Struggle; Angela D. Dillard.Chapter 11: "Pray to God; She Will Hear Us": Women Reimagining Religion and Politics in the 1970s; Lilian Calles Barger.Chapter 12: "The 1900-Year Crisis": Arthur Waskow, the Question of Israel/Palestine, and the Effort to Form a Religious Jewish Left in America, 1967-1974; Doug Rossinow.Chapter 13: Ita Ford and the Spirit of Social Change; Marian Mollin.Chapter 14: Global Encounters and the Evangelical Left; David R. Swartz.


"All articles are clearly written and break new ground. Most are steeped in primary sources. This volume is one good place for historians of the religious left to begin." (Justus D. Doenecke, Anglican and Episcopal History, Vol. 89 (3), September, 2020)
"The editors' work is ultimately an invitation for scholars to pick up on the insights of these well-written essays and integrate them into their teaching and research. The breadth and depth of the collection certainly makes it a valuable resource for historians of every field." (Christopher D. Cantwell, The Journal of American History, Vol. 106 (3), December, 2019)
"If you're as depressed and despairing as I have been feeling lately, this is a good book to read. ...it will remind you of the long arc of history which doesn't necessarily always bend towards justice, but can be bent that way by those imbued with vision, passion, and organizing skills. ... Each essay is carefully crafted, succinct, well researched, and thoughtfully argued." (Paul Harvey, Reading Religion, readingreligion.org, August, 2018)

"The Religious Left in Modern America: Doorkeepers of a Radical Faith aim to set the record straight, challenging misconceptions about American religion, radicalism, and culture. ... The Religious Left in Modern America have done a great service by opening up an overdue conversation about the interplay of religion and radicalism." (Vaneesa Cook, s-usih.org, October, 2018)