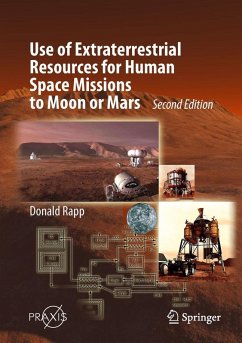 Andere Kunden interessierten sich
auch
für


This new edition provides a short synopsis of the Mars mission, and discusses various topics, including solid oxide electrolysis, which promises to be an important part of the ISRU picture. In addition, it explores ancillary needs for Mars ISRU and how to obtain water on Mars.

It is the go-to resource for professionals involved in planning space missions or working on ISRU processes, as well as students planning careers in space technology.


Produktdetails
Springer Praxis Books
Artikelnr. des Verlages: 978-3-319-72693-9
2. Aufl.
Erscheinungstermin: 31. Januar 2018
Englisch
Abmessung: 246mm x 173mm x 19mm
Gewicht: 596g
ISBN-13: 9783319726939
ISBN-10: 3319726935
Artikelnr.: 49913460
Part 1 - Mars ISRU: Human Missions to Mars.- Mars Resources.- Acquiring Compressed CO2.- Processes Utilizing Mainly CO2 from the Atmosphere.- The Sabatier/Electrolysis Process.- Obtaining H2O on Mars.- Obtaining Water from the Atmosphere.- Ancillary Needs for Mars ISRU.- Part 2: Lunar ISRU.- Lunar Resources.- Lunar ISRU Processes.- NASA Accomplishments and Plans.- Part 3. Value of ISRU: Value of Mars ISRU.- Value of Lunar ISRU.- Future Factors that could influence Mars ISRU.- Part 4. Refueling Spacecraft in LEO Using Propellants Derived from the Moon or Asteroids.- Introduction.- Value of Lunar Water in LEO.- Percentage of Water Mined on the Moon Transferred to LEO.- Refueling Spacecraft with Propellants Derived from Asteroids.- Part 5. Recent NASA Plans: Some History.- Recent NASA Planning.
---