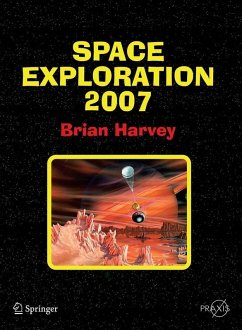 Andere Kunden interessierten sich
auch
für
---
Dieser Download kann aus rechtlichen Gründen nur mit Rechnungsadresse in A, B, BG, CY, CZ, D, DK, EW, E, FIN, F, GR, HR, H, IRL, I, LT, L, LR, M, NL, PL, P, R, S, SLO, SK ausgeliefert werden.
Produktdetails
Verlag: Springer-Verlag GmbH
Erscheinungstermin: 10. August 2007
Englisch
ISBN-13: 9780387487588
Artikelnr.: 37286701
The Epic Journey Begins....- Building the International Space Station.- Arrival of the Red Planet.- Looking at Mercury....- Visiting Venus....- Europa's Ice Next . . ..- Exploring the Ringed Planet.- Secrets of a Cloudy Moon . . ..- Catching Fragments of Our Past....- A vision for Space Exploration....- ...Continuing a vision for Space Exploration.- Soyuz in the Jungle.- Return to the Moon.- In the footsteps of Soyuz.
From the reviews:
"Space Exploration 2007, includes articles about building the International Space Station, results of the exploration of Mars, intercepting comets and asteroids, the latest data from space missions to Jupiter's moons, and more. With photographs on almost every page, the annual will interest space enthusiasts from teenagers through to professionals working in the worldwide space industry and journalists covering space issues."(EurekAlert!, October, 2006)
"At last a space book with a sense of humour! ... here we have a book for space enthusiasts of all ages. The collection of contemporary articles provide a useful 'end of year' summary on the kind of subjects you would expect ... . There are also useful charts and tables ... . Space Exploration 2007 is a great Christmas gift and promises to be a classic in the making." (Clive Simpson, Spaceflight, Vol. 49, January, 2007)
"This is the first in what is going to become an annual publication covering current eventsin space events in space exploration. Its large format an extensive use of color make it both attractive and informative, and should appeal to space enthusiasts of all ages. ... All chapters also include references for further reading, which is a nice touch." (Liftoff, Issue 238, 2007)
"It is clearly to design to appeal to the space enthusiast and most likely aimed at the Christmas market. ... the material in the book is pitched at a teen- or adult-level readership.
... the articles in the book are informative and generally well written, there are copious illustrations, and the price of the book is modest. I would say that this book is worth considering for the space junkie in your family." (Steve Bell, The Observatory, Vol. 27, 2008)