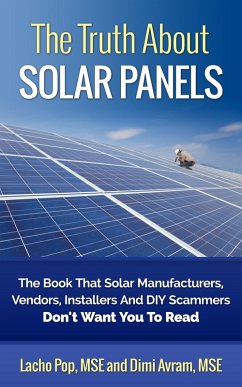 Geräte: eReader

mit Kopierschutz

Größe: 1.67MB

FamilySharing(5)
The Truth About Solar Panels:The Book That Solar Manufacturers, Vendors, Installers And DIY Scammers Don't Want You To Read
" comes as an answer to all the misleading and poor quality information about solar panels, currently available on the web, provided by "experts" of questionable skill and experience.
This book has been written by authors holding master's degree in electrical engineering, who have a huge experience in design and operation of electrical devices and systems. Nevertheless, the book is not intended for experts, since it is written in an easy-to-understand language for a broad audience.
The book provides an impartial description of solar (photovoltaic, PV) panels, which means that it can also be used as a guide proving your investment in a solar power system. Buying, building or installing a solar electric system for your home or business is a complex task, with lots of various issues involved. What should be noted above all however, is that the right choice of solar panels is 80% responsible for the overall performance of a photovoltaic system. Ignoring this simple rule could get you both big trouble and money lost.
The book "
The Truth About Solar Panels"
could help you avoid getting into trouble and losing money, since it provides you with practical information about solar panels, their pros and cons and various features. Furthermore, this book honestly compares benefits and drawbacks of brand new, second hand and do-it-yourself solar panels, in a manner no one has done before.
This book is going to reveal you how to choose the best solar panel for your solar project. Eventually you will be able to identify the marketing tricks commonly used by solar vendors and installers to sell you an overpriced underperforming solar panel of questionable warranty.
"
The Truth About Solar Panels"
can be used as a guide:
When planning a solar power system
While doing a research for what solar panels to choose for your system
Upon communicating with solar vendors and installers.
This book is for anyone who needs practical information about solar panels, how they perform and how to select them. The book can be used not only by people who are about to decide whether to go solar or not, but also by everyone who has already been involved in a solar power project, such as homeowners, do-it-yourself solar enthusiasts, lovers of recreational vehicles, campers, boats and other outdoor activities, potential investors in solar power, business owners interested in solar power and many others keen in solar power and renewable energy.
Get the book "The Truth About Solar Panels" now and start your solar project today!
---
Dieser Download kann aus rechtlichen Gründen nur mit Rechnungsadresse in A, B, CY, CZ, D, DK, EW, E, FIN, F, GR, H, IRL, I, LT, L, LR, M, NL, PL, P, R, S, SLO, SK ausgeliefert werden.