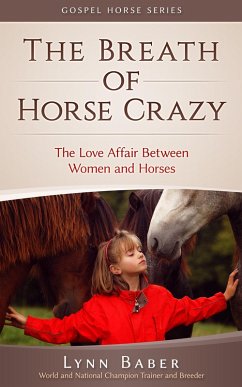 Geräte: eReader

mit Kopierschutz

Größe: 1.54MB

FamilySharing(5)
Why do women love horses? Husbands, fathers, and sons try to understand us, but often give up, accepting that just as kittens grow up to be cats, the horse-loving woman in his life was born that way. She is a force of nature, unknowable, unchangeable, and the smart ones learn it's better to join than resist.
The thought of horses changes my spirit; inhaling their sweet aroma, fingers pulling softly through silky tail hair, my heart translating their secret language of snuffles, whuffles, and whinnies. There's no way to explain it to someone who isn't in love with horses. But for those who are, no words are necessary. Eyes meet, lips curl in a secret smile, and with a nod of recognition, you know that you are sisters.
Life with horses is real. It's a mixture of spreading your arms to catch the sky on mountain peaks of joy and wallowing in sand dampened by tears. The greatest losses reveal the greatest loves. If you have the dream, please know that it isn't a fairy tale, but a blessing that stretches you every way humanly possible. And those who live it wouldn't trade it for anything.
I've been blessed to live with horses for over thirty years, trading in my training facility for a barn shared with my husband, four horses, two dogs, and a cat. Until I was thirty-three years old, I held the dream of horses in my heart, doing everything possible to ride, pet, talk to, or simply be near one. This book is for my horse-crazy sisters, those who live the dream and those still clinging to the hope that one day hers will come true.
Horses are wonderful, obedient, sweet, obstinate, frustrating, challenging, joyous, fulfilling, and obsessive. Most are creative communicators capable of telling you precisely where to scratch, what perfume is most annoying, which treat is the bomb, and when you've ticked her off or hurt her feelings.
Horses make sense in a world that doesn't. I don't understand why people hate, argue, scheme, belittle, and harm one another. We humans can be quixotic, generous, hateful, loving, and nasty. Horses aren't that way. They're consistently horse. All of them. Delightful, comical, challenging, endearing, frustrating comedians and dramatists of the stable. Who wouldn't be captivated?
Some women are born with a fully-activated horse-crazy gene. Others live a half-century before theirs is triggered, opening up a new world of possibility, emotion, insight, fulfillment, and love. Enjoy stories from real women who share their horse dreams and what they've learned. Generously illustrated with actual photos. Some are professionals, some aren't, but all are sisters.
Share memories, realize opportunity, and take advantage of tools shared throughout "The Breath of Horse Crazy" to make your dream bigger, bolder, and more satisfying. You breathe and you love horses. What's so difficult to understand?
---
Dieser Download kann aus rechtlichen Gründen nur mit Rechnungsadresse in A, B, CY, CZ, D, DK, EW, E, FIN, F, GR, H, IRL, I, LT, L, LR, M, NL, PL, P, R, S, SLO, SK ausgeliefert werden.