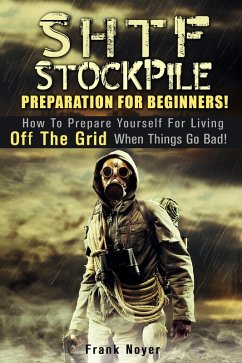 Geräte: eReader

mit Kopierschutz

Größe: 0.22MB

FamilySharing(5)
But why should you? And how do you do it?
Well, that's where this book comes in. It's actually simple to prepare for the worst, you just have to know what you need to have in order to do so.
There is a new type of preparation that is out there called SHTF preparation. It's something that you should be watching, for it can do a whole lot for you in the long run. It's always better to be safe than sorry, and this type of preparation will prepare you for anything. You might not realize it, but danger could be right around the corner. There could be something lurking there, just waiting to create a problem with entire human population. If a disease broke out, you would be one of the fee people who stayed safe because of this type of preparation.
You might wonder how to go about this. The movies and games out there don't do it justice, for they usually have their problems come up after the fact. The truth of the matter is, you should be prepared before the worst happens. The only reason why those people are in that situation anyway is because they weren't prepared for the worst, and instead they ended up having to fend for themselves in a hellish wasteland. But don't let yourself be that person, for you can prepare yourself for any occasion, whether it be a small bad thing, or the end of the world.
This book is a prepper book that will teach you the basic things that you need in order to help prepare yourself for when things go bad. This book will give you a great background to what it is, what it can do for you, why you should prepare like this, some of the things that you need, and even some unusual tidbits that could be helpful for when things go really bad. It' a revolutionary way to help yourself get ready for the worst possible situations, and it's something that many people should work to invest in.
Trying to prepare for the worst things can be a drag. You're walking into unknown territory that could be bad. But, if you have a SHTF stockpile of material, then you'll be able to prepare for the worst and not have to worry about anything. You'll be amazed at the way things go, and you'll be happier as well. So what are you waiting for? It's time to prepare your place with the right things in order to become the master prepper that you are. It's not hard, and the results that you get out of this are amazing and definitely worth your while.
---
Dieser Download kann aus rechtlichen Gründen nur mit Rechnungsadresse in A, B, CY, CZ, D, DK, EW, E, FIN, F, GR, H, IRL, I, LT, L, LR, M, NL, PL, P, R, S, SLO, SK ausgeliefert werden.