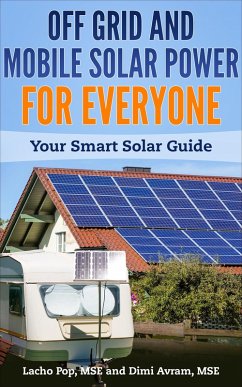 Geräte: eReader

mit Kopierschutz

Größe: 3.04MB

FamilySharing(5)
Solar power and electricity basics
Energy efficiency
Off-grid system configurations
Solar (photovoltaic) panels
Batteries in off-grid systems:
- Lead-acid batteries - Alkaline batteries - Li-Ion batteries
Charge controllers: PWM and MPPT controllers - a detailed comparison
Inverters and specifications of off-grid inverters
Other solar power system equipment
Scaling an off-grid solar power system
Designing an off-grid solar panel system: from site survey to selecting the system components, i.e., solar panels, batteries, charge controller, inverter, wire, fusses and over-current protection devices
Off-grid system sizing examples
- Sizing a solar system for a summer house - Sizing a mobile solar system
Installation and maintenance of off-grid and portable solar power systems
...and much more. Start building your solar power system for your RV, camper, camper or your off-grid home, cabin, lodge today!
---
Dieser Download kann aus rechtlichen Gründen nur mit Rechnungsadresse in A, B, CY, CZ, D, DK, EW, E, FIN, F, GR, H, IRL, I, LT, L, LR, M, NL, PL, P, R, S, SLO, SK ausgeliefert werden.