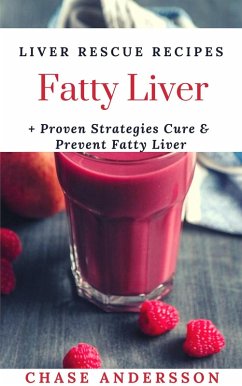 Geräte: eReader

mit Kopierschutz

Größe: 4.18MB

FamilySharing(5)
Thanks for taking your ample time to download this book. The pages in this book were developed through years of experiences, as well as what has proven to work for others that I have talked to and have researched. I also appreciate trying to understand your own fatty liver issues and how you can overcome them through natural techniques.
Fatty liver can occur in various ways and it can affect many different individuals. Thus everybody is now at risk but the pleasant news is that it can be prevented or cured though it depends on the causative agent of the disease. If the primary cause of the disease can be diagnosed, then it will just require some few simple steps to prevent the fats from building up. For instance, if excessive alcohol consumption is the root cause, reduction or total avoidance of alcohol consumption provides the total cure.
However, if it is very complicated, the solution might not be very simple. The FLD may have developed as a result of Diabetes which implies the need to monitor your sugar consumption and control your blood sugar level. If Fatty Liver Disease occurs following obesity, then automatic change of your lifestyle is the real deal including consumption of healthy diets and liver supplements to arrest the condition.
This short ebook contains proven steps and strategies on how to overcome your fatty liver disease forever. These are effective ways that are helpful as a cure to fatty liver disease. Practicing these ways to get rid of your fatty liver will also promote a healthier lifestyle for the rest of your life.
I can guarantee that you will find this book useful if you make sure to implement what you learn in the following pages. The important thing is that you IMPLEMENT what you learn. Fatty Liver disease is not conquered overnight but the important thing to remember is that it is definitely possible for you to overcome it. What I am giving you is the information you need so that you can understand your own situation as well as the steps you will need to take on your journey.
We will dive into what is going on in your liver, how your liver reacts to different triggers, how your eating, drinking, and exercising habits can influence your liver health, as well as what work is required of you to get past the roadblocks you have.
I encourage you to carry out your research on the things that you want to look deeper into. There are many myths created by supplement and pharmaceutical companies in order to profit off of the ignorance of the masses. Avoid such by educating yourself on nutrition and biochemistry.
The more you understand regarding your own health and body, the better off you will be in the long run. To overcome a fatty liver problem, it will take some work on your part, but you can do it! So, remember to read with confidence and keep an open mind!
---
Dieser Download kann aus rechtlichen Gründen nur mit Rechnungsadresse in A, B, CY, CZ, D, DK, EW, E, FIN, F, GR, H, IRL, I, LT, L, LR, M, NL, PL, P, R, S, SLO, SK ausgeliefert werden.