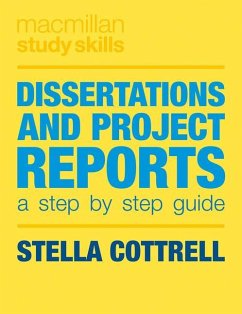 Andere Kunden interessierten sich
auch
für


This is an invaluable resource for students of all levels embarking on a dissertation, project report or other piece of extended writing. Its interdisciplinary approach means it is the ideal companion for students of all disciplines.


Produktdetails
Palgrave Study Skills
Verlag: Macmillan Education
2014
Seitenzahl: 224
Erscheinungstermin: 10. Januar 2014
Englisch
Abmessung: 246mm x 187mm x 12mm
Gewicht: 492g
ISBN-13: 9781137364265
ISBN-10: 1137364262
Artikelnr.: 39602640
Acknowledgements.- Introduction.- PART I: PREPARATION AND PLANNING 1. Where Do I Start?.- 2. What Makes a Good Dissertation or Research Project?.- 3. Project Managing Your Dissertation.- 4. Managing Yourself for the Task.- 5. Time and Timing.- 6. Working with Your Supervisor.- PART II: DEVELOPING YOUR PROPOSAL 7. Understanding the Assignment Brief.- 8. Selecting Your Topic and Title.- 9. Literature Search and Review.- 10. Principles of Good Research.- 11. Methodologies: Approaches to Research.- 12. Ethical Considerations.- 13. Writing the Research Proposal.- PART III: CONDUCTING THE RESEARCH 14. The Evidence Base.- 15. Working with Participants.- 16. Experiments.- 17. Observations.- 18. Surveys and Questionnaires.- 19. Interviews.- 20. Case Studies.- 21. Interpreting Your Findings.- PART IV: WRITING IT UP 22. Your Writing Strategy.- 23. Getting the Structure Right.- 24. Fine Tuning your Writing.- 25. Viva Exams.- Final Considerations.- References.- Index.

'... There is so much to like about Dissertations and Project Reports that I am not sure where to begin. Organization is certainly a key variable as one prepares to write a dissertation, thesis, or a research paper. And, here it is, presented in a manner that can be individualized to meet the needs of each writer. I wish I'd been able to make use of this so long ago when preparing my own dissertation!
... The checklists provide the necessary organization to this sometimes overwhelming activity. The resulting 'visual guide' helps to make this process so much clearer.' - Dr Cora M. Dzubak, Nittany Success Center Director, Penn State - York, USA
'It was a pleasure reading through this step-by-step guide. I especially appreciate that the various academic, ethical, financial, psychological and social dimensions of dissertation-writing are covered in a friendly but firm manner. Students embarking on an extended essay or a bachelor's thesis for the first time will benefit from the sound advice about preparation and planning in particular, and more experienced or advanced postgraduates will find the guide a helpful and active reminder of the entire academic research process. The skills audit and evaluation exercise at the beginning and end, aligning with the inception and completion of a research project, readily capture the intellectual and self-development aims of independent student research.' - Dr Cissie Fu, Assistant Professor of Political Theory, Leiden University, the Netherlands
'This text is a well-structured guide for those embarking on their first dissertation or thesis. Taking candidates from 'I had a Dream' stage through to the lodgement of the final submission intertwined with examples learnt from experience ... I will be recommending to my students.' - John Cowan, Lecturer in Construction Management and Property, Construction Project Management, Property and Development, University of New South Wales, Australia