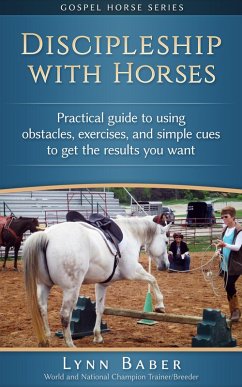 Geräte: eReader

mit Kopierschutz

Größe: 0.29MB

FamilySharing(5)
This is a practical book sharing the what, why, and how of creating transformative relationship with a horse. Few know how to achieve it, but it is possible when you know how to offer it, guide it, and deserve it.
Horsemanship is understanding how horses think, how they learn, and what they need.
Leadership offers horses options that let them be right, teaches them confidence, and creates reflexive obedience because the horse wants to do as you ask.
Discipleship is knowing what you know well enough to teach others how to get the same results you do.
The parallel between your relationship with a horse and your relationship with God follow similar paths. Christian author Lynn Baber ties the two together in inspiring and practical ways. She explains why your horse doesn't do as you ask and how to change both the question and the answer.
From the practical to the inspirational and the round pen to the prayer closet, Lynn provides specific how-to's and concepts to help you develop the right program for your horse, or anyone you lead, based on timeless gospel principles.
For example, Jesus used four basic commands with His disciples:
Come
Follow
Go or Send
Yield
Every request you make of your horse falls into one of those four categories. When you don't get the result you want, which of those four did your horse say "No" to?
Christian Horse Training (CHT) is simple, systematic, and a labor of love. "Discipleship With Horses" is the guidebook to help you connect with the heart of a horse in a way many only dream of. This is a journey of joy.
---
Dieser Download kann aus rechtlichen Gründen nur mit Rechnungsadresse in A, B, CY, CZ, D, DK, EW, E, FIN, F, GR, H, IRL, I, LT, L, LR, M, NL, PL, P, R, S, SLO, SK ausgeliefert werden.