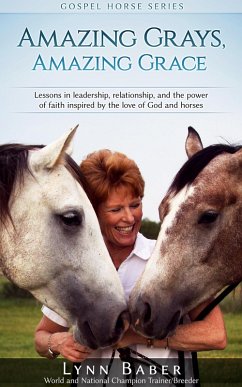 Geräte: eReader

mit Kopierschutz

Größe: 0.68MB

FamilySharing(5)
Learn how to earn your horse's complete attention, deserve his faith, and inspire consistent obedience.
Horses are born looking for a herd, dogs for a pack, and people for God. The quality of every horse, dog, or human life is the quality of the relationships enjoyed or endured.
The "Amazing Grays" are two gray quarter horses who led the author from a successful career in the horse industry to ministry with horses. As Lynn says, "You can't fool God and you can't fool a horse. And, like God, horses treat you precisely as you deserve, unless they give you grace."
The search for love, security, companionship, and fun is universal. Creating relationships that deliver great blessing without excessive baggage isn't easy in our complex world. Ultimately, the search for security and meaning is the search for a relationship with God. Horses are perfect study partners for anyone willing to work, learn, and practice both followership and leadership.
"Amazing Grays" applies simple gospel truths to your relationship with horses. The foundations of commitment, faith, and effective correction are shared in stories from the author's years as an equine professional. Gratitude, distraction, temptation, willingness, and humility are recurring characters in life with horses and your walk with Christ.
"Amazing Grays" leads you on the joyful path to building new depths of commitment and relationship with your horse.
The author credits her life, her successes, and the priceless gift of life with horses to God's amazing grace. Through horses, Lynn learned the truth of how deep and complete Jesus's commitment is to her - because it's the same one she makes to her horses and knows the cost.
---
Dieser Download kann aus rechtlichen Gründen nur mit Rechnungsadresse in A, B, CY, CZ, D, DK, EW, E, FIN, F, GR, H, IRL, I, LT, L, LR, M, NL, PL, P, R, S, SLO, SK ausgeliefert werden.