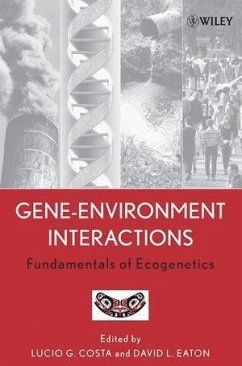 Andere Kunden interessierten sich
auch
für
---
Dieser Download kann aus rechtlichen Gründen nur mit Rechnungsadresse in A, D ausgeliefert werden.
Produktdetails
Verlag: John Wiley & Sons
Seitenzahl: 576
Erscheinungstermin: 2. März 2006
Englisch
ISBN-13: 9780471758037
Artikelnr.: 37342691
Foreword. Acknowledgments. Contributors. PART I. Chapter 1. Introduction (Lucio G. Costa and David L. Eaton). Chapter 2. Ecogenetics: Historical Perspectives (Gilbert S. Omenn and Arno G. Motulsky). Chapter 3. Tools of Ecogenetics (Theo K. Bammler
Federico M. Farin
and Richard P. Beyer). Chapter 4. Epidemiologic Approaches (Harvey Checkoway
Parveen Bhatti
and Anneclaire De Roos). Chapter 5. Statistical Issues in Ecogenetic Studies (Stephanie A. Monks). PART II. Chapter 6. Overview of Section II (Lucio G. Costa and David L. Eaton). Chapter 7. Polymorphisms in Cytochrome P450 and Flavin-Containing Monooxygenase Genes (Catherine K.Yeung
Allan E. Rettie
and Kenneth E. Thummel) Chapter 8. Polymorphisms in Xenobiotic Conjugation (Helen E. Smith
David L. Eaton
and Theo K. Bammler). Chapter 9. Paraoxonase
Butyrylcholinesterase
and Epoxide Hydrolase (Lucio G. Costa
Toby B. Cole
Gary K. Geiss
and Clement E. Furlong). Chapter 10. DNA Repair Enzymes (Jon P. Anderson and Lawrence A. Loeb). Chapter 11. Receptors and Ion Channels (Lucio G. Costa). PART III. Chapter 12. Overview of Section III (Lucio G. Costa and David L. Eaton). Chapter 13. Lung Cancer (Valle Nazar-Stewart). Chapter 14. Gastrointestinal Cancers (Thomas L.Vaughan). Chapter 15. Neurodegenerative Diseases (Samir N. Kelada
Harvey Checkoway
and Lucio G. Costa). Chapter 16. Cardiovascular Disease (Melissa A.Austin and Stephen M. Schwartz). Chapter 17. Type 2 Diabetes (Karen L. Edwards). Chapter 18. Infectious Disease Ecogenetics (David R. Sherman). Chapter 19. Genetic Variation
Diet
and Disease Susceptibility (Johanna W. Lampe and John D. Potter). Chapter 20. Genetic Determinants of Addiction to Alcohol
Tobacco
and Drugs of Abuse (Andrew J. Saxon). PART IV. Chapter 21. Overview of Section IV (Lucio G. Costa and David L. Eaton). Chapter 22. Ethical Issues in Ecogenetics (Kelly Fryer-Edwards
Lindsay A. Hampson
Christopher R. Carlsten
and Wylie Burke). Chapter 23. Social and Psychological Aspects of Ecogenetics (Deborah Bowen
Shirley Beresford
and Brenda Diergaarde). Chapter 24. Legal Issues (Kate Battuello and Anna Mastroianni). Chapter 25. Risk Assessment and the Impact of Ecogenetics (Elaine M. Faustman and Gilbert S. Omenn). Bibliography. Index.

"...highly recommended for academic libraries that have undergraduate and graduate studies in genetics, toxicology, and pharmacology." (E-STREAMS, September 2007)

"...a great accomplishment, and it can well serve as a primary, extensively-referenced text..." (American Journal of Medical Genetics, Part A, August 1, 2007)

"...a must-have for all toxicology and pharmacology students as well as a great resource for researchers and physicians." (Environmental Health Perspectives, June 2006)

"...a vital in-office reference for any scientific researcher dedicated to the study of genetics...invaluable to public health researchers who are look at how global threats live Avian Flu might spread to the general populous...an indispensable reference to all health science libraries." (The Electric Review, March/April 2006)
"...a must-have for all toxicology and pharmacology students as well as a great resource for researchers and physicians." (Environmental Health Perspectives, June 2006)"...a vital in-office reference for any scientific researcher dedicated to the study of genetics...invaluable to public health researchers who are look at how global threats live Avian Flu might spread to the general populous...an indispensable reference to all health science libraries." (The Electric Review, March/April 2006)