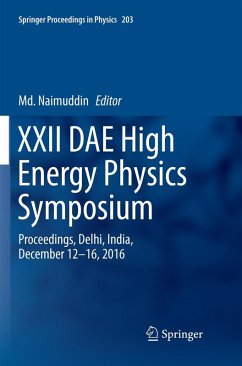 Andere Kunden interessierten sich
auch
für


The DAE-BRNS High Energy Physics Symposium, widely considered to be one of the leading symposiums in the field of Elementary Particle Physics, is held every other year in India and supported by the Board of Research in Nuclear Sciences (BRNS), Department of Atomic Energy (DAE), India. As many as 400 physicists and researchers attended the 22nd Symposium to discuss the latest advances in the field. A poster session was also organized to highlight the work and findings of young researchers. Bringing together the essential content, the book offers a valuable resource for both beginning and advanced researchers in the field.


Produktdetails
Springer Proceedings in Physics 203
Artikelnr. des Verlages: 978-3-030-10328-6
Softcover reprint of the original 1st ed. 2018
Seitenzahl: 988
Erscheinungstermin: 25. Dezember 2018
Englisch
Abmessung: 235mm x 155mm x 52mm
Gewicht: 1484g
ISBN-13: 9783030103286
ISBN-10: 3030103285
Artikelnr.: 56493115
 Explore the QCD Phase Diagram at Finite Baryon Density Region - Recent Results from RHIC Beam Energy Scan-I.- Silicon Sensors for HEP Experiments.- Physics and Detectors at Future Linear Colliders.- Hierarchy problem and Physics beyond the Standard Model.- Electroweak Measurements at LHC.- Electroweak Measurements at LHC.- Exotics in Flavor Factories.- Transport coe cients of Quark-Gluon-Plasma.- Results on quarkonium and heavy meson production in PbPb collisions by CMS experiment.-  Recent status of the understanding of neutrino-nucleus cross section.- Review of Latest RHIC Results and Future Perspectives.- Status of INO-ICAL Detector.- Search for Sterile Neutrino Signal in the 7Be Solar Neutrino Measurement with KamLAND.- A model for anisotropic strange stars.- Re-discovery of the SM Higgs boson in diphoton channel at 13 TeV at CMS in LHC.- Neutrino phenomenology and its cosmological insights with S4 avor symmetry.- Twist-six corrections to eta-photon and etaprimephoton transition form factors in QCD.- Recent UE measurements at 13 TeV.- Pion mass modification in presence of external magnetic field.- Study of Multiple Partonic Interactions at the Large Hadron Collider.- Can stopped cosmic muons be used to estimate the magnetic field in the prototype ICAL detector?.