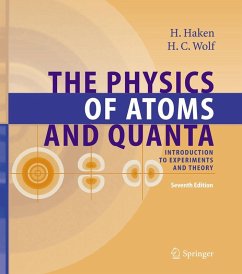 Andere Kunden interessierten sich
auch
für


All new developments, such as new experiments on quantum entanglement, the quantum computer, quantum information, the Einstein-Podolsky-Rosen paradoxon, Bell's inequality, Schrödinger's cat, decoherence, Bose-Einstein-Condensation and the atom laser are discussed. Over 170 problems and their solutions help deepen the insight in this subject area and make this book a real study text.

The more advanced book by the same authors entitled Molecular Physics and Elements of Quantum Chemistry coplements this unique textbook.
---
The highly positive affirmation and wide reception that this book continues to receive from professors and students ahke is the occasion for this 7th edition. Once again we have included a number of valuable suggestions for improvements, which we address as appropriate. In addition, we refer to a number of developments in atomic physics. Of these new developments in regard to exotic atoms, we mention antihydrogen in par ticular, because fundamental experiments in matter and antimatter can be expected in the future. Furthermore, we have inserted a chapter on the behaviour of atoms in strong elec trical fields. Experiments with corresponding lasers could only recently be realized. We thank our Jenaer colleague, R. Sauerbrey, for his contribution of this chapter. We have also included a new chapter on the behaviour of the hydrogen atom in strong magnetic fields. The results are of profound interest for two very different fields of physics: on the one hand, according to classical physics, one expects chaotic behaviour from Rydberg atoms in magnetic fields that can be created in the laborato ry; thus, an association can be drawn to aspects of chaos theory and the problems of quantum chaos. On the other hand, the very strong fields necessary for low quantum numbers are realized in the cosmos, in particular with white dwarfs and neutron stars.
Produktdetails
Advanced Texts in Physics
Verlag: Springer, Berlin
Artikelnr. des Verlages: 10981184
7th rev. and enl. ed.
Seitenzahl: 544
Erscheinungstermin: 8. September 2005
Englisch
Abmessung: 246mm x 215mm x 39mm
Gewicht: 1448g
ISBN-13: 9783540208075
ISBN-10: 3540208070
Artikelnr.: 03552120
The Mass and Size of the Atom.- Isotopes.- The Nucleus of the Atom.- The Photon.- The Electron.- Some Basic Properties of Matter Waves.- Bohr's Model of the Hydrogen Atom.- The Mathematical Framework of Quantum Theory.- Quantum Mechanics of the Hydrogen Atom.- Lifting of the Orbital Degeneracy in the Spectra of Alkali Atoms.- Orbital and Spin Magnetism. Fine Structure.- Atoms in a Magnetic Field: Experiments and Their Semiclassical Description.- Atoms in a Magnetic Field: Quantum Mechanical Treatment.- Atoms in an Electric Field.- General Laws of Optical Transitions.- Many-Electron Atoms.- X-Ray Spectra, lnternal Shells.- Structure of the Periodic System. Ground States of the Elements.- Nuclear Spin, Hyperfine Structure.- The Laser.- Modern Methods of Optical Spectroscopy.- Progress in Quantum Physics: A Deeper Understanding and New Applications.- Fundamentals of the Quantum Theory of Chemical Bonding.
---
1. Introduction.- 1.1 Classical Physics and Quantum Mechanics.- 1.2 Short Historical Review.- 2. The Mass and Size of the Atom.- 2.1 What is an Atom?.- 2.2 Determination of the Mass.- 2.3 Methods for Determining Avogadro's Number.- 2.3.1 Electrolysis.- 2.3.2 The Gas Constant and Boltzmann's Constant.- 2.3.3 X-Ray Diffraction in Crystals.- 2.3.4 Determination Using Radioactive Decay.- 2.4 Determination of the Size of the Atom.- 2.4.1 Application of the Kinetic Theory of Gases.- 2.4.2 The Interaction Cross Section.- 2.4.3 Experimental Determination of Interaction Cross Sections.- 2.4.4 Determining the Atomic Size from the Covolume.- 2.4.5 Atomic Sizes from X-Ray Diffraction Measurements on Crystals.- 2.4.6 Can Individual Atoms Be Seen?.- Problems.- 3. Isotopes.- 3.1 The Periodic System of the Elements.- 3.2 Mass Spectroscopy.- 3.2.1 Parabola Method.- 3.2.2 Improved Mass Spectrometers.- 3.2.3 Results of Mass Spectrometry.- 3.2.4 Modern Applications of the Mass Spectrometer.- 3.2.5 Isotope Separation.- Problems.- 4. The Nucleus of the Atom.- 4.1 Passage of Electrons Through Matter.- 4.2 Passage of Alpha Particles Through Matter (Rutherford Scattering).- 4.2.1 Some Properties of Alpha Particles.- 4.2.2 Scattering of Alpha Particles by a Foil.- 4.2.3 Derivation of the Rutherford Scattering Formula.- 4.2.4 Experimental Results.- 4.2.5 What is Meant by Nuclear Radius?.- Problems.- 5. The Photon.- 5.1 Wave Character of Light.- 5.2 Thermal Radiation.- 5.2.1 Spectral Distribution of Black Body Radiation.- 5.2.2 Planck's Radiation Formula.- 5.2.3 Einstein's Derivation of Planck's Formula.- 5.3 The Photoelectric Effect.- 5.4 The Compton Effect.- 5.4.1 Experiments.- 5.4.2 Derivation of the Compton Shift.- Problems.- 6. The Electron.- 6.1 Production of Free Electrons.- 6.2 Size of the Electron.- 6.3 The Charge of the Electron.- 6.4 The Specific Charge e/m of the Electron.- 6.5 Wave Character of Electrons and Other Particles.- 6.6 Interferometry with Atoms.- Problems.- 7. Some Basic Properties of Matter Waves.- 7.1 Wave Packets.- 7.2 Probabilistic Interpretation.- 7.3 The Heisenberg Uncertainty Relation.- 7.4 The Energy-Time Uncertainty Relation.- 7.5 Some Consequences of the Uncertainty Relations for Bound States.- Problems.- 8. Bohr's Model of the Hydrogen Atom.- 8.1 Basic Principles of Spectroscopy.- 8.2 The Optical Spectrum of the Hydrogen Atom.- 8.3 Bohr's Postulates.- 8.4 Some Quantitative Conclusions.- 8.5 Motion of the Nucleus.- 8.6 Spectra of Hydrogen-like Atoms.- 8.7 Myionic Atoms.- 8.8 Excitation of Quantum Jumps by Collisions.- 8.9 Sommerfeld's Extension of the Bohr Model and the Experimental Justification of a Second Quantum Number.- 8.10 Lifting of Orbital Degeneracy by the Relativistic Mass Change.- 8.11 Limits of the Bohr-Sommerfeld Theory. The Correspondence Principle.- 8.12 Rydberg Atoms.- Problems.- 9. The Mathematical Framework of Quantum Theory.- 9.1 The Particle in a Box.- 9.2 The Schrodinger Equation.- 9.3 The Conceptual Basis of Quantum Theory.- 9.3.1 Observations, Values of Measurements and Operators.- 9.3.2 Momentum Measurement and Momentum Probability.- 9.3.3 Average Values and Expectation Values.- 9.3.4 Operators and Expectation Values.- 9.3.5 Equations for Determining the Wavefunction.- 9.3.6 Simultaneous Observability and Commutation Relations.- 9.4 The Quantum Mechanical Oscillator.- Problems.- 10. Quantum Mechanics of the Hydrogen Atom.- 10.1 Motion in a Central Field.- 10.2 Angular Momentum Eigenfunctions.- 10.3 The Radial Wavefunctions in a Central Field .- 10.4 The Radial Wavefunctions of Hydrogen.- Problems.- 11. Lifting of the Orbital Degeneracy in the Spectra of Alkali Atoms.- 11.1 Shell Structure.- 11.2 Screening.- 11.3 The Term Diagram.- 11.4 Inner Shells.- Problems.- 12. Orbital and Spin Magnetism. Fine Structure.- 12.1 Introduction and Overview.- 12.2 Magnetic Moment of the Orbital Motion.- 12.3 Precession and Orientation in a Magnetic Field.- 12.4 Spin and Magnetic Moment of the Electron.- 12.5 D