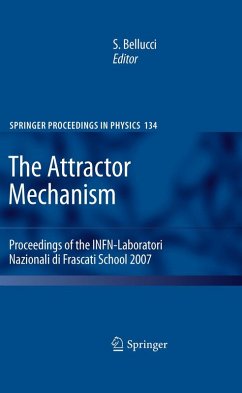 Produktdetails
Springer Proceedings in Physics .134
Verlag: Springer, Berlin
2010
Seitenzahl: 356
Erscheinungstermin: 5. September 2012
Englisch
Abmessung: 235mm x 155mm x 19mm
Gewicht: 540g
ISBN-13: 9783642264023
ISBN-10: 3642264026
Artikelnr.: 36209902
SAM Lectures on Extremal Black Holes in d = 4 Extended Supergravity.- Lectures on Spectrum Generating Symmetries and U-Duality in Supergravity, Extremal Black Holes, Quantum Attractors and Harmonic Superspace.- Attractors, Black Holes and Multiqubit Entanglement.- From Special Geometry to Black Hole Partition Functions.- Complexity at the Fundamental Level.- Non-supersymmetric Attractors in Symmetric Coset Spaces.- Higher-Order String Effective Actions and Off-Shell d = 4 Supergravity.