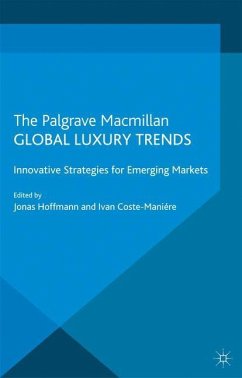 Andere Kunden interessierten sich
auch
für
Produktdetails
Artikelnr. des Verlages: 978-1-349-44968-2
1st ed. 2013
Seitenzahl: 276
Erscheinungstermin: 27. August 2016
Englisch
Abmessung: 235mm x 155mm x 14mm
Gewicht: 423g
ISBN-13: 9781349449682
ISBN-10: 1349449687
Artikelnr.: 44711244
1. On Luxury Strategizing 2. Paths for the Emergence of Global Chinese Luxury Brands 3. Luxo Brasil and Osklen's New Luxury 4. Uber Luxury: For Billionaires Only 5. Occupation Fashion Blogging: Relation Between Blogs and Luxury Fashion Brands 6. Engaging with the Luxury Consumer in China 7. Luxury and Arts in China: The Island6 Case 8. Luxury Shopping Places in China 9. Perspectives on Luxury Operations in China 10. Luxury Consumer Tribes in Asia: Insights from South Korea 11. Luxury in Russia and in Countries of Eastern Europe 12. Luxury in India: Seduction by Hypnotic Subtlety 13. Polo as a Vehicle for Communicating Luxury 14. Mimesis and the Nexus of Luxury Industry in India 15. Tesla Motors, the Reinvention of the Luxury Sports Car Industry 16. Why Buy Luxury? Insights from Consumer Research 17. Elie Saab: Strategic Presence in the Digital Luxury Space
---
'Global Luxury Trends is a useful tool for understanding the logic of luxury. It is an insightful analysis of China, Russia, India and

Brazil that gives a key to appreciating and evaluating the markets of emerging countries. Students, professors and managers will

enjoy the descriptions of customers and the attitudes of buyers. I strongly recommend this book, which is clear, well written and very informative for those who want to sharpen the business model of management in the luxury industry.' CHRISTIAN BLANCKAERT, Professor of Management at ESCP-EUROPE in Paris and Former Executive VP of Hermes International

'A great collection of industry expertise with good-to-go insights from all corners of Planet Luxury.' GUY SALTER, Deputy Chairman, Walpole British Luxury

'Global Luxury Trends is a catalyst of crucial turning points and provides a set of changes in both leadership and focus. A reality

check for instant connectivity and new pillars of global relevance.' ALBERTO MILANI, CEO Buccellati Inc.