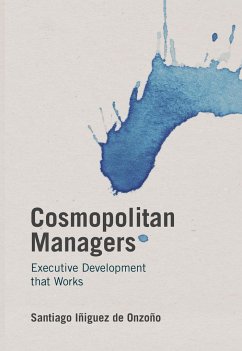 Andere Kunden interessierten sich
auch
für


Given that the future of your business, or your career, depends on developing your managerial talent to its fullest potential isn't it time we took a serious look at how do you design and deliver an executive education program that is fit for purpose?

Santiago Iñiguez is Dean of the prestigious IE Business School in Madrid - one of the world's leading providers of executive education. From the impact of MOOCs to the evolution of new multi-dimensional strategic alliances between companies and a diverse range of international education suppliers, institutions, and consultancies, Iñiguez looks at how the future of executive education is changing to meet the needs and wants of top managerial talent.

Part of the solution, Iñiguez argues, is to balance the technical, analysis-based "engineering" training that forms the basis of many senior managers' initial study, with a more rounded, integrated approach that includes learning derived from the humanities, such as art and history.

Illustrated with fascinating examples drawn from interviews with some of the most influential figures in business education and corporate training around the World, Iñiguez's book delivers a unique perspective and valuable insights on what it takes to deliver world-class corporate training.


Produktdetails
IE Business Publishing
Artikelnr. des Verlages: 978-1-137-54907-5
1st ed. 2016
Erscheinungstermin: 14. Oktober 2016
Englisch
Abmessung: 216mm x 154mm x 22mm
ISBN-13: 9781137549075
ISBN-10: 1137549076
Artikelnr.: 44688527
Foreword; Dr Nick H.M. van Dam, Global Chief Learning Officer, Mckinsey & Company.- Part I: In-company executive education and development.- 1. Human Resources management and leadership development.- 2. Executive education examined.- 3. The managerial lifecycle.- 4. Blending technology and learning.- 5. Measuring the impact of executive learning.- 6. Attracting, developing and retaining talent.- 7. Challenges and opportunities of implementing diversity and inclusion.- Part II: Growing cosmopolitan managers.- 8. Creating learning communities.- 9. Management and the Humanities.- 10.Creating a virtuous learning environment.- 11.Nurturing management virtues.- 12.Talent management and sustainable companies.- Epilogue: Tantalizing paradises and satisfaction at work.

---