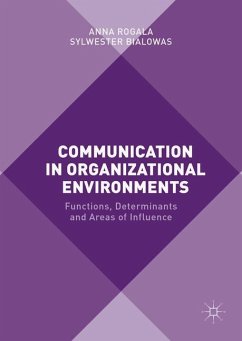 Andere Kunden interessierten sich
auch
für
Communication in Organizational Environments analyzes originalquantitative and qualitative research, and determines the functions, objectivesand conditions of effective internal communication. In this book, the authorsbridge the gap in the literature on the management of corporate internal communication,and provide a tool for measuring communication effectiveness. Useful as a guidefor internal communication managers in various organizations, this book is alsoimportant reading for academics in corporate communication, public relations,corporate management and behaviour, and human resource management.


Produktdetails
Artikelnr. des Verlages: 978-1-137-54701-9
1st ed. 2016
Seitenzahl: 280
Erscheinungstermin: 20. Dezember 2016
Englisch
Abmessung: 216mm x 153mm x 20mm
ISBN-13: 9781137547019
ISBN-10: 1137547014
Artikelnr.: 44538624
Chapter 1 -Theory of communication: evolution, approaches, models.- Chapter 2 -Internal communication in an organization.- Chapter 3 -Functions and objectives of internal communication.- Chapter 4 -Communication behaviours in an organization.- Chapter 5 -Determinants of internal communication effectiveness.- Chapter 6 -Internal and external communication - in search of coherence.