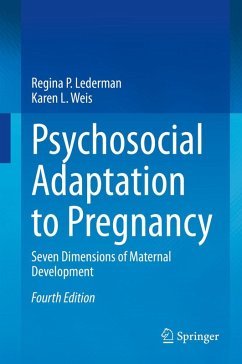 Andere Kunden interessierten sich
auch
für
The book focuses on the seven dimensions of maternal prenatal emotional health:
Acceptance of the pregnancy.
Motivation and preparation for motherhood.
Relationship with husband/partner.
Relationship with her own mother.
Preparation for labor.
Sense of control in labor
Self-Esteem and Well-Being in labor.
Psychosocial Adaptation to Pregnancy
is a significant addition to the psychosocial assessment literature, a needed resource for clinical and health psychologists, clinical social workers, marriage and family therapists, professional counselors, midwives, and obstetrical nurses. It is also adaptable to undergraduate and graduate courses in maternal reproductive health and obstetrical nursing.
Produktdetails
Artikelnr. des Verlages: 978-3-030-45737-2
4. Aufl.
Seitenzahl: 372
Erscheinungstermin: 16. September 2020
Englisch
Abmessung: 241mm x 160mm x 26mm
Gewicht: 715g
ISBN-13: 9783030457372
ISBN-10: 3030457370
Artikelnr.: 58802712
Chapter 1. Psychosocial Anxiety, Stress, and Adaptation in Pregnancy: Assessment of Seven Dimensions of Maternal Development

1.1 Introduction

1.2 Foundation Research Projects for Theory Development of the Seven Dimensions of Maternal Prenatal Adaption

1.2.1 Maternal Psychological and Physiological Correlates of Progress in Labor and Fetal/Newborn Health

1.2.1.1 Theory and Design

1.2.1.2 Methods

1.2.1.3 Results

1.2.2 Relationship of Maternal Prenatal Psychosocial Adaptation and Family Functioning to Pregnancy Outcomes

1.2.2.1 Background and Theory

1.2.2.2 Design and Methods

1.2.2.3 Results

1.2.3 Maternal Prenatal Psychosocial Adaptation Predictors of Infant Birth

1.2.3.1 Theory and Background

1.2.3.2. Research Summary

1.3 The Far-Reaching Effects of Prenatal Anxiety, Birth Outcomes, Demographic Variables, and Health of the Mother and the Fetus/Newborn/Child

1.3.1 Maternal Anxiety and Stress in Pregnancy, and Demographic Factors and Traumatic Life Events

1.3.2 Maternal Prenatal Anxiety and Stress, and Adverse Child and Adult Health Outcomes

1.4 Theoretical Foundations of the Seven Dimensions of Adaption to Pregnancy

Chapter 2. Acceptance of Pregnancy

2.1 Planning and Wanting the Pregnancy

2.2 Happiness Versus Depression During Pregnancy

2.3 Discomfort During Pregnancy

2.4 Body Change During Pregnancy

2.5 Ambivalence Toward Pregnancy

2.6 Summary

Chapter 3. Identification with a Motherhood Role

3.1 Motivation for Motherhood

3.2 Preparations for Motherhood

3.2.1 Fantasizing

3.2.1.1 Envisioning Oneself as a Mother

3.2.1.2 Characteristics Desired as a Mother

3.2.1.3 Anticipating Future Life Changes as a Mother

3.2.2 Dreams About Pregnancy and Motherhood

3.2.2.1 Reliving Childhood

3.2.2.2 School Dreams

3.2.2.3 Motherhood-Career Conflict

3.2.2.4 Confidence in Maternal Skills

3.2.2.5 Food Dreams and Infant Intactness

3.2.2.6 Life Experience

3.3 Conflict Resolution

3.4 Maternal-Fetal Attachment Representation and Maternal Role Evolution

3.5 Summary

Chapter 4. Relationship with Mother

4.1 Availability of the Mother

4.1.1 Infancy and Childhood

4.1.2 Availability During Pregnancy

4.2 Reactions to Pregnancy

4.3 Respect for Autonomy

4.4 Willingness to Reminisce

4.5 Empathy with the Mother

4.6 Summary

Chapter 5. Relationship with Husband or Partner

5.1 The Husband's Concern for His Expectant's Wife's Needs

5.1.1. Empathy

5.1.1.1 Empathic Partners

5.1.1.2 Unempathic Partners

5.1.2 Increased Cooperativeness and Flexibility

5.1.3 Availability

5.1.4 Trustworthiness and Reliability

5.2 The Wife's Concern for Her Husband's Needs as an Expectant Father

5.3 Effects of the Pregnancy on the Marital Bond

5.3.1 Closeness and Intimacy

5.3.2 Increased or Decreased Conflict in the Marital Bond

5.4 Identification of a Fatherhood Role

5.5 The Transition to Fatherhood

5.5.1 Readiness for Fatherhood

5.5.2 Stress Associated with Fatherhood

5.5.3 Paternal-Infant Attachment

5.5.4 Paternal Involvement in Child Care

5.5.5 Marital and Partner Relationship Support and Education During Pregnancy

5.6 Summary

Chapter 6. Preparation for Labor

6.1 Planning for Labor: Practical Steps to Gather Information

6.1.1 Prenatal Classes

6.1.2 Conversing with Other Women

6.1.3 Books, Films, and Media

6.1.4 Other Practical Steps

6.2 Planning for Labor: Maternal Thought Processes

6.2.1 Thinking Versus Avoidance of Thinking About Labor

6.3 Congruence Between Fantasy and Reality

6.3.1 Labor Contractions

6.3.2 Work and Pain

6.3.3 Risks and the Unknown

6.3.4 Doubts and Fears About Labor

6.4 Level of Confidence Regarding Labor

6.5 Envisioning the Challenges of Labor for Oneself and the Fetus

6.5.1 Dreams About Labor

6.6 Summary

Chapter 7. Prenatal Fears of Pain, Helplessness, and Loss of Control in Labor

7.1 Loss of Control Over the Body

7.2 Loss of Control Over the Emotions

7.3 Ability to Trust the Medical/Nursing Staff

7.4 Attitudes Toward Being "Awake and Aware" and the Use of Medication

7.5 Summary

Chapter 8. Prenatal Fears of Loss of Self-Esteem and Well-Being in Labor

8.1 Overview

8.2 Measures of Self-Image

8.3 Evaluation of Self-Worth

8.4 Behaviors that Reflect Self-Esteem

8.4.1 Tolerance of Self

8.4.2 Value of Self

8.4.3 Body Image and Appearance

8.5 Summary

Chapter 9. Prenatal Adaptation in Military Women

9.1 Military Demands and the Effect on the Family

9.2 Dimensions of Maternal Psychosocial Adaptation and Anxiety in Military Women

9.2.1 Acceptance of Pregnancy, Deployment, and Support

9.2.2 Prenatal Maternal Anxiety and Community Support

9.2.3 Prenatal Material Anxiety and Birth Outcomes

9.3 Intervention for Prenatal Maternal Anxiety

9.2.1 Mentors Offering Maternal Support (M-O-M-S(TM)) Development and Piloting

Chapter 10. Prenatal Adaptation Among Multigravidas

10.1 Quantitative Results: Statistical Analysis of Psychosocial Adaptation to Pregnancy Based on Parity

10.2 Qualitative Analysis of Psychosocial Adaptation to Pregnancy Based on Parity

10.2.1 Acceptance of Pregnancy

10.2.1.1 Body Image and Career Transitions during Pregnancy

10.2.1.2 The Impact of Experience and Family Planning on Acceptance of Pregnancy

10.2.1.3 Other Factors Bearing an Acceptance of Pregnancy

10.2.1.4 Financial Considerations of a Larger Family

10.2.1.5 Summary: Acceptance of Pregnancy

10.2.2 Identification with a Motherhood Role

10.2.2.1 Anxiety About Anticipated Life Changes and the Unknown Child

10.2.2.2 Preparing Children for a Sibling

10.2.2.3 The Impact of Past Experience with Motherhood

10.2.2.4 Anticipation of Life Changes

10.2.2.5 Summary: Identification with a Motherhood Role

10.2.3 Relationship with Mother

10.2.3.1 Motherhood as a Maturational and Developmental Milestone

10.2.3.2 The Impact of a Current Negative or Nonexistent Relationship with the Mother

10.2.3.3. Summary: Relationship with Mother

10.2.4 Relationship with Husband or Partner

10.2.4.1 Changes in the Sexual Relationship During Pregnancy

10.2.4.2 Family and Social Support

10.2.4.3 Summary: Relationship with Husband or Partner

10.2.5 Preparation for Labor

10.2.5.1 Childbirth Preparation Classes and Books

10.2.5.2 Summary: Preparation for Labor

10.2.6 Fear of Pain, Helplessness, and Loss of Control in Labor

10.2.6.1 Summary: Fear of Pain, Helplessness, and Loss of Control in Labor

10.2.7 Concerns for Loss of Self-Esteem and Well-Being in Labor

10.2.8 Summary: Fear of Loss of Self-Esteem and Well-Being in Labor

10.3 Summary

Chapter 11. Methods of Assessment: Psychosocial Adaptation to Pregnancy Questionnaire Scales and Interview Schedules, and Review of Interventions to Enhance Adaptation

11.1 Prenatal Self-Evaluation Questionnaire (PSEQ) and Psychometric Data

11.1.1 Description of the Seven Scales of the Prenatal Self-Evaluation Questionnaire and Sample Items

11.1.1.1 Acceptance of Pregnancy

11.1.1.2 Identification of a Motherhood Role

11.1.1.3 Relationship with Mother

11.1.1.4 Relationship with Husband/Partner

11.1.1.5 Preparation for Labor

11.1.1.6 Fear of Pain, Helplessness, and Loss of Control in Labor

11.1.1.7 Concern for Loss of Self-Esteem and Well-Being of Self and Baby in Labor

11.1.2 Psychometric Data

11.1.2.1 Descriptive Data and Reliability Coefficients

11.1.2.2 Intercorrelations Among the Scales

11.2 Prenatal Clinical Interview Schedules and Rating Scales

11.2.1 Clinical Practice Recommendations for Conducting Interviews

11.2.2 Summary Ratings

11.3 Recommendations for Clinical Care and Research

11.3.1 Clinical Assessment: Continuity of Care and Assessment of Maternal Development Adaptation

11.3.2 Suggestions for Clinical Research Studies

11.3.2.1 Assessment of Prenatal Adaptation and Determination of Labor and Delivery Outcomes

11.4 Research Intervention Trials for General and Pregnancy-Specific Anxiety Reduction

11.4.1 Assessment of the Seven PSEQ Dimensions as a Basis for Intervention

11.4.1.1 Characteristics of Effective Interventions

11.5 The Panoply of Therapeutic Prenatal Interventions to Promote Maternal Psychosocial Adaptation to Pregnancy

11.5.1 Assessment and Intervention Research Demonstrating Effectiveness in High-Risk Prenatal Populations

11.5.2 Intervention Research Demonstrating Effectiveness in Low-Risk Prenatal Populations

11.5.3 Marital/Partner Relationships as Factors Influencing Maternal Stress/Anxiety Responses, with Implications for Therapeutic Intervention

11.5.4 Maternal and Paternal Coping Strategies and Birth Outcomes

11.5.5 Complementary and Alternative Medical (CAM) Therapies

11.6 The Significance of Assessment and Screening for Pregnancy-Specific Anxiety and Prenatal Other Life Events