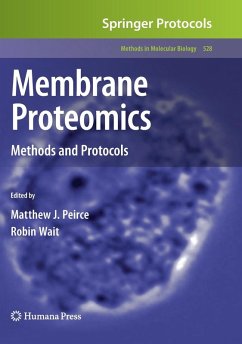 Andere Kunden interessierten sich
auch
für
Membrane Proteomics: Methods and Protocols, leading experts in the field compile a laboratory bench resource which provides a comprehensive toolkit of proven methods. The volume delves into various modifications to standard two-dimensional gel electrophoresis protocols as well as liquid chromatographic methods, protocols for the enrichment of diverse classes of plasma membrane proteins, in silico approaches, and cutting-edge techniques for quantitative membrane protein profiling. Written in the highly successful Methods in Molecular Biology(TM) series format, chapters include brief introductions to their respective topics, lists of the necessary materials and reagents, step-by-step, readily reproducible laboratory protocols, and notes on troubleshooting and avoiding known pitfalls.

Comprehensive and easy-to-use, Membrane Proteomics: Methods and Protocols is an ideal guide for investigators wishing to apply state of the art membrane proteomic methodologies in their own research programs.
---
The membranes surrounding cells and organelles constitute their interface with the local environment. The functions of membrane proteins include cell/cell and cell/extracellular matrix recognition, the reception and transduction of extracellular signals, and the tra- port of proteins, solutes and water molecules. Abnormal membrane protein expression has profound biological effects and may, for example, underlie phenotypic and functional differences between normal and tumour cells. Moreover the accessibility, particularly of plasma proteins traversing the plasma membrane of cells, makes them of particular ut- ity to the therapeutic intervention in disease. Indeed, it is estimated that of all currently licensed pharmaceuticals, approximately 70% target proteins resident in the plasma m- brane. In theory, unbiased technologies such as proteomics have the power to de?ne patterns of membrane protein expression characteristic of distinct states of cellular development, differentiation or disease, and thereby identify novel markers of, or targets for intervention in, disease. However, although about 25% of open reading frames in fully sequenced genomes are estimated to encode integral membrane proteins, global analysis of membrane protein expression has proved problematic. Membrane protein analysis poses unique challenges at the level of extraction, solubilization, and separation in particular, and to a lesser extent of identi?cation and quantitation. These challenges have, however, fostered creativity, in- vation, and technical advances, many of which are brought together in Membrane P- teomics.
From the reviews:

"This is an important resource for investigators interested in understanding patterns of membrane protein expression ... which are helpful in the identification of novel markers of, or targets for intervention in, disease. ... It will be quite useful for research investigators and students interested in this field. ... This book will be a valuable resource for investigators and students interested in learning about membrane proteomic methodologies. ... High quality illustrations greatly help the understanding of the material." (Omer Iqbal, Doody's Review Service, June, 2009)