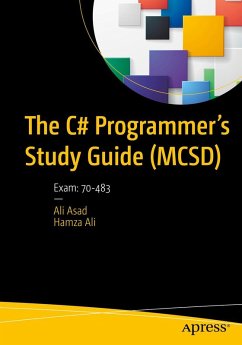 Produktdetails
Verlag: Springer, Berlin; Apress
Artikelnr. des Verlages: 978-1-4842-2859-3
1st ed.
Erscheinungstermin: 23. Juni 2017
Englisch
Abmessung: 256mm x 177mm x 32mm
Gewicht: 969g
ISBN-13: 9781484228593
ISBN-10: 1484228596
Artikelnr.: 48033578
Chapter 1:Fundamentals of C sharp.- Chapter 2: Types in C sharp.- Chapter 3: Getting Started with Object Oriented Programming.- Chapter 4: Advanced C sharp.- Chapter 5: Implementing Delegates and Events.- Chapter 6: Taking a Deep Dive into LINQ.- Chapter 7: Managing the Object Life Cycle.- Chapter 8: Multi-Threaded, Async, and Parallel Programming.- Chapter 9: Exception Handling and Validating Application Input - Chapter 10: File I/O Operations.- Chapter 11: Serialization ad Deserialization.- Chapter 12: Consuming Data.- Chapter 13: Working with Cryptography.- Chapter 14: Assembly and Reflection.- Chapter 15: Debugging and Diagnostics.- Chapter 16: MCQs.