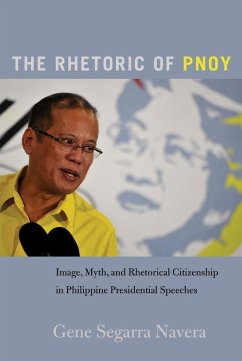 Andere Kunden interessierten sich
auch
für


This volume analyzes selected speeches delivered by Benigno 'Noynoy' Simeon C. Aquino III, President of the Republic of the Philippines from 2010 to 2016. They are speeches that have been used to shape public perception, gain support, and build identification between Aquino's presidency and his audience.

By mobilizing the concepts of presidential image, myth, metaphors, and rhetorical citizenship, readers are guided through a process of examining the rhetorical trajectory of the Philippine presidency, how a president's discourse has attempted to shape Philippine socio-political reality, and how the evolving milieu the president has found himself in shapes his discourse. The essays in this volume will hopefully generate a discussion not only on the place of President Benigno Aquino's rhetoric in Philippine presidential history, but also of how rhetorical practices in an evolving democratic society in Asia can extend and expand theorizations of presidential rhetoric and political communication at large.


Produktdetails
Frontiers in Political Communication 32
Artikelnr. des Verlages: 314830
Erscheinungstermin: 15. Januar 2018
Englisch
Abmessung: 225mm x 150mm x 10mm
Gewicht: 280g
ISBN-13: 9781433148309
ISBN-10: 1433148307
Artikelnr.: 48828635
Acknowledgments - List of Abbreviations - Reading Philippine Presidential Rhetoric: Image, Myth, and Rhetorical Citizenship - Metaphorizing Good Governance: PNoy's Daang Matuwid - Presidential Talk and "Truth-telling" - Anti-wang-wang and National Rebirth - A National Frame That Sounds "More of the Same" - The Presidency as Style - PNoy and His Assertion of Legitimacy - The Limits of Candor: Presidential Oratory in a Time of Crisis - Still Metaphors: Daang Matuwid and the Enduring Political Myth - Speech Criticism as Rhetorical Citizenship - List of Selected Speeches by President Benigno Simeon C. Aquino III (PNoy) - Index.