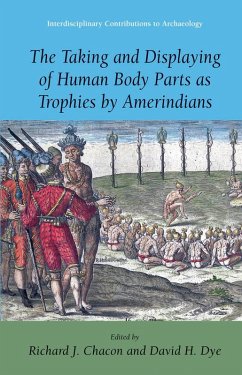 Andere Kunden interessierten sich
auch
für
Produktdetails
Interdisciplinary Contributions to Archaeology
Artikelnr. des Verlages: 11746416, 978-0-387-48300-9
2008
Seitenzahl: 700
Erscheinungstermin: 15. Mai 2007
Englisch
Abmessung: 241mm x 160mm x 42mm
Gewicht: 1208g
ISBN-13: 9780387483009
ISBN-10: 0387483004
Artikelnr.: 22201855
North America.- to Human Trophy Taking.- Heads, Women, and the Baubles of Prestige.- Human Trophy Taking on the Northwest Coast.- Ethnographic and Linguistic Evidence for the Origins of Human Trophy Taking in California.- Head Trophies and Scalping.- Human Finger and Hand Bone Necklaces from the Plains and Great Basin.- Predatory War and Hopewell Trophies.- "Otinontsiskiaj ondaon" ("The House of Cut-Off Heads").- Human Trophy Taking in Eastern North America During the Archaic Period.- Severed Heads and Sacred Scalplocks.- Disabling the Dead.- Trophy Taking in the Central and Lower Mississippi Valley.- Latin America.- Captive Sacrifice and Trophy Taking Among the Ancient Maya.- The Divine Gourd Tree.- Sorcery and the Taking of Trophy Heads in Ancient Costa Rica.- From Corporeality to Sanctity.- Human Trophies in the Late Pre-Hispanic Andes.- Seeking the Headhunter's Power.- "Handsome Death".- Human Trophy Taking in the South American Gran Chaco.- Ethics and Ethnocentricity in Interpretation and Critique.- Supplemental Data on Amerindian Trophy Taking.- Conclusions.
From the reviews:

"The volume edited by Chacon and David Dye is a comprehensive source book on trophy-taking in the Americas. ... carefully produced, thoroughly researched, and thoughtfully written, drawing on ethnohistory and archaeology in about equal measure. ... essential reading for anyone interested in the archaeology of war and violence." (Elizabeth Arkush, American Antiquity, Vol. 73 (3), 2008)

"This volume of far ahead of many bioarcheological works...it should be the goal of the violence researcher (or any anthropologist for that matter) to not search for a single event that delineates and homogenizes a systematic function of a group (e.g. sacrifice, violence, or warfare) but rather try to understand how people are bound by events and processes that allow for a fluidity of responses to multiple stimuli. This volume moves in that direction by establishing skeletal and taphonomic studies in the Maya region that adhere to a rigorous methodology and that are systematically applied." (Ventura Perez, International Journal of Osteoarchaeology, vol. 19 (566-571), 2009).