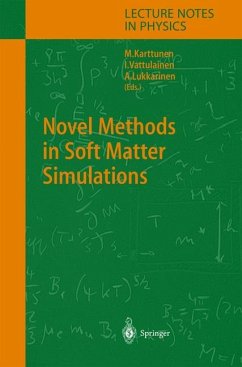 Andere Kunden interessierten sich
auch
für
Produktdetails
Lecture Notes in Physics Vol.640
Verlag: Springer, Berlin
2004
Seitenzahl: 412
Erscheinungstermin: 15. März 2004
Englisch
Abmessung: 241mm x 160mm x 27mm
Gewicht: 792g
ISBN-13: 9783540209164
ISBN-10: 3540209166
Artikelnr.: 12634617
Applications of Dissipative Particle Dynamics.
Simulating the Dynamics of Mesoscopic Systems.
Statistical Mechanics of Coarse
Graining.
Mesoscopic Multi
Particle Collision Model for Fluid Flow and Molecular Dynamics.
Molecular Dynamics of Complex Systems: Non
Hamiltonian, Constrained, Quantum
Classical.
Hybrid Models: Bridging Particle and Continuum Scales in Hydrodynamic Flow Simulations.
On the Reduction of Molecular Degrees of Freedom in Computer Simulations.
Computer Simulations of the Electric Double Layer.
Lattice Boltzmann Modeling of Complex Fluids: Collodial Suspensions and Fluid Mixtures.
Reverse Non
Equilibrium Molecular Dynamics.
Coarse
Graining in Polymer Simulations.
Phase
Field Modeling of Dynamical Interface Phenomena in Fluids.