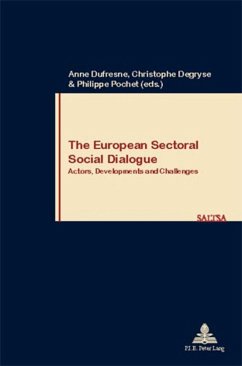 Andere Kunden interessierten sich
auch
für

This volume is original in that it is based on a systematic collection of documents produced by the European sectoral and cross-industry social dialogue, along with a hundred or so interviews with the relevant players. Some of the main questions raised by the authors include: what is meant by sectoral social dialogue? How does it differ from crossindustry social dialogue? What type of negotiations take place? What are the aims and strategies of employers' organisations? Are the agreements implemented and, if not, why not? What difference has EU enlargement made in this area and what else might change? Is it possible to devise a typology of sectors? Without claiming to have definitive answers for all these questions, this volume offers some useful food for thought at a time when sectoral social dialogue is tentatively asserting its position Europewide.
Produktdetails
Travail et Société / Work and Society .55
Artikelnr. des Verlages: 21052
Neuausg.
Seitenzahl: 342
Erscheinungstermin: 19. Dezember 2006
Englisch
Abmessung: 221mm x 149mm x 22mm
Gewicht: 460g
ISBN-13: 9789052010526
ISBN-10: 9052010528
Artikelnr.: 24936792
Contents: Lars Magnusson: Foreword - Anne Dufresne/Philippe Pochet: Introduction - Christophe Degryse: Historical and Institutional Background to the Cross-industry Social Dialogue - Anne Dufresne: The Evolution of Sectoral Industrial Relations Structures in Europe - Philippe Pochet: A Quantitative Analysis - Philippe Pochet/Christophe Degryse/Anne Dufresne: A Typology - Nadia Hilal: The Case of Rail Freight - Philippe Pochet/Christophe Degryse: Social Dialogue in UNI-Europa Sectors - Philippe Pochet: Textiles and Sugar. European Social Dialogue under Pressure from International Rules - Anne Dufresne/Christophe Degryse/Philippe Pochet: Metalworking, Chemicals and the Public Sector. A Thaw Sets In - Anne Dufresne: Sectoral Employer Strategies in the EU. Lobbying by Partners? - Sofia Murhem: Implementation of the Sectoral Social Dialogue in Sweden - Évelyne Léonard/Delphine Rochet/Isabelle Vandenbussche: The Challenges of Enlargement - Christophe Degryse/Philippe Pochet: Conclusion.