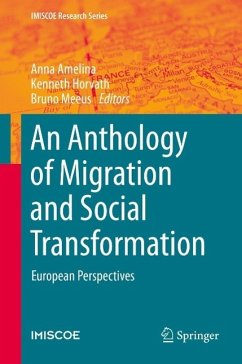 Andere Kunden interessierten sich
auch
für
---
Dieser Download kann aus rechtlichen Gründen nur mit Rechnungsadresse in A, B, BG, CY, CZ, D, DK, EW, E, FIN, F, GB, GR, HR, H, IRL, I, LT, L, LR, M, NL, PL, P, R, S, SLO, SK ausgeliefert werden.
Produktdetails
Verlag: Springer-Verlag GmbH
Erscheinungstermin: 01.12.2015
Englisch
ISBN-13: 9783319236667
Artikelnr.: 44485905
Chapter 1. Migration and Social Transformation: Interdisciplinary Insights and European Perspectives: Anna Amelina Kenneth Horvath Bruno Meeus.- Section I: Theorising about Migration and Social Transformation in Europe: Introduction to Section I: Kenneth Horvath and Bruno Meeus.- Chapter 2. Understanding Global Migration: A Social Transformation Perspective: Stephen Castles.- Chapter 3. Theorizing About Change: The Promise of Comparative Political Economy for Migration Studies: Georg Menz.- Chapter 4. Turning to Grand Theory: Cultural Political Economy and the Regulation of Immigration: Nicolas Van Puymbroeck.- Chapter 5. Reflecting on Spatiality in European Migration Research: From Methodological Nationalism to Space-Sensitive Observations of Social Transformations: Elisabeth Scheibelhofer.- Chapter 6. Migration and Postsocialism: A Relational Geography Approach: Bruno Meeus.- Section II: Transformations in the Political Regulation of Migration: Introduction to Section II: Kenneth Horvath and Bruno Meeus.- Chapter 7. The Europeanisation of Immigration Policies: Leila Hadj-Abdou.- Chapter 8. New Guest Worker Regimes?: Michael Samers .- Chapter 9. Identity Check: Smart Borders and Migration Management as Touchstones for EU Readiness and EU Belonging: Martin Geiger.- Chapter 10. Border/Control: William Walters.- Chapter 11: Social Transformation, Subjectification, and Labour Migration: Theorizing the Heterogeneity of Migration Flows in the Current Italian Crisis: Gabriele Tomei.- Section III: Complexities of Mobilities: From One-Way Migration to Multiple Patterns: Introduction to Section III: Bruno Meeus and Kenneth Horvath .- Chapter 12. Cross-Border Commuting and Transformational Dynamics in Europe - What is the Link?: Laura Wiesböck, Christoph Reinprecht, Raimund Haindorfer, Roland Verwiebe.- Chapter 13. Portability of Social Protection in the European Union: A Transformation of National Welfare Systems?: Elaine Moriarty, James Wickham, Alicja Bobek and Sally Daly.- Chapter 14. International Retirement Migration: Transforming Societies Through Purchasing Power: Benno Herzog.-Chapter 15.International Students and Cosmopolitanisms: Educational Mobility in a Global Age: Basak Bilecen.- Chapter 16. 'Good Motherhood' - a Dilemma for Migrant Women from Eastern Europe: Helma Lutz.- Section IV: Shifting Politics of Belonging: Introduction to Section III: Bruno Meeus and Kenneth Horvath.- Chapter 17. Struggles at the Boundaries of Neoliberal Citizenship. Theorizing Immigrant-led Movements in Contemporary Europe: Federico Oliveri.- Chapter 18. 'Islamophobism' as an Ideology in the West: Scapegoating Muslim-Origin Migrants: Ayhan Kaya.- Chapter 19. 'How Would You React if You Learned That Your Son Was Gay?'Racialised Sexualities and the Production of Migrant Others in Europe: Paul Scheibelhofer.- Chapter 20. Locating Migrant Pathways of Economic Emplacement: Thinking beyond the Ethnic Lens: Nina Glick Schiller and Ayse Çaglar.- Chapter 21. Mediated Communication and Migration in Europe - A Contribution to the Ongoing Debate: Ricarda Drüeke.- Section V: Outlook for Researching Migration and Social Transformation Beyond Eurocentrism: Chapter 22. The 'European' Question: Migration, Race, and Postcoloniality in 'Europe': Nicholas De Genova.
The contributions of this book examine contemporary dynamics of migration and mobility in the context of the general societal transformations that have taken place in Europe over the past few decades. The book will help readers to better understand the manifold ways in which migration trends in the region are linked to changing political-economic constellations, orders of power and inequality, and political discourses. It begins with an introduction to a number of theoretical approaches that address the nexus between migration and general societal shifts, including processes of supranationalisation, EU enlargement, postsocialist transformations and rescaling. It then provides a comprehensive overview of the political regulation of migration through border control and immigration policies. The contributions that follow detail the dynamic changes of individual migration patterns and their implications for the agency of mobile individuals. The final part challenges the reader to consider how policies and practices of migration are linked to symbolic struggles over belonging and rights, describing a wide range of expressions of such conflicts, from cosmopolitanism to racism and xenophobia. "This collection provides an impressive and insightful account that cuts across the societal, regional and international levels to show how migration both shapes and is shaped by key social transformations in Europe." Andrew Geddes-Department of Politics, University of Sheffield "This is a much
needed handbook that ties the booming research on migration in Europe to wider issues of societal transformation. It is a truly needed contribution to our effort of disentangling complex phenomena such as European integration, globalisation, migration and mobility." Anna Triandafyllidou-Robert Schuman Chair, European University Institute,Florence