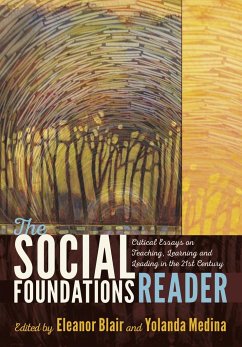 Andere Kunden interessierten sich
auch
für
The Social Foundations Reader is meant for undergraduate and graduate students in introductory foundations of education classes. No other contemporary reader provides such a broad and yet critical view of the issues typically addressed in an introductory foundations course. Instead, most provide a generic and typically conservative perspective on schools and classrooms and do little to encourage students to consider the important roles of critical theory and social justice in the creation of school environments that are responsive to issues of equity and diversity. This book provides a different lens through which students can view what happens in twenty-first-century schools while also considering the perspectives of multiple constituencies: parents, teachers, students and communities. The reader of this text is exposed to a wide range of scholarship in the foundations of education; essays range from the more traditional work of John Dewey to the controversial ideas of Henry Giroux. Contested topics associated with teaching, learning and leading in contemporary public schools are considered within a context where grappling with the answers to fundamental questions that will ultimately guide meaningful school reform is an essential part of becoming an educator. Each of the five sections in the book is accompanied by an introduction and summary/reflection questions to both guide reading and challenge students to think critically about how to synthesize and apply the ideas being presented.
Produktdetails
Artikelnr. des Verlages: 312942
Erscheinungstermin: 31. März 2016
Englisch
Abmessung: 260mm x 183mm x 24mm
Gewicht: 850g
ISBN-13: 9781433129421
ISBN-10: 1433129426
Artikelnr.: 44159706
Contents: Eleanor J. Blair: A Pedagogy of Hopelessness: Fear and Loathing in 21st Century American Schools - John Dewey: My Pedagogic Creed - Pedro A. Noguera: Finding Hope Among the Hopeless - Diane Ravitch: What I Learned About School Reform - D. Kim Reid/Michelle G. Knight: Disability Justifies Exclusion of Minority Students: A Critical History Grounded in Disability Studies - Joel Spring: Equality of Educational Opportunity: Race, Gender, and Special Needs - Paul R. Carr: Transforming Educational Leadership Without Social Justice?: Looking at Critical Pedagogy as More Than a Critique, and a Way Toward «Democracy» - Aaron David Gresson III: Race and Pedagogy - Joe L. Kincheloe: Critical Pedagogy in Action - Yolanda Medina: Art Education Programs: Empowering Social Change - Ozlem Sensoy/Robin DiAngelos: The Invisibility of Oppression - Michelle Collay: Teaching Is Leading - Mary Cowhey: Going Against the Grain - Julie A. Gorlewski: Teaching from the Test: Using High-Stakes Assessments to Enhance Student Learning - Bettina L. Love: «Too Young for the Marches but I Remember These Drums»: Recommended Pedagogies for Hip Hop - Based Education and Youth Studies - Yolanda Medina: The Issue of identity - Sandra Liliana Pucci/Gregory J. Cramer: The Story of Cesar Chavez High School: One Small School's Struggle for Biliteracy - Lisa Delpit: Warm Demanders: The Importance of Teachers in the Lives of Children of Poverty - Henry A. Giroux: In Defense of Public School Teachers in a Time of Crisis - Patricia H. Hinchey: Starting Points: Assumptions and Alternatives - Gloria Ladson-Billings: But That's Just Good Teaching! The Case for Culturally Relevant Pedagogy - Barbara Madeloni/Julie A. Gorlewski: Wrong Answer to the Wrong Question: Why We Need Critical Teacher Education, Not Standardization - Angela Anselmo/Alma Rubal-Lopez: Community - Sandra A. Butvilofsky: «What I know about Spanish is that I don't talk it much»: Bilingual Fifth-Grade Students' Perceptions of Bilingualism - Patrick J. Finn: A Distinctly Un-American Idea: An Education Appropriate to Their Station - James M. Kauffman/Kathleen McGee/Michele Brigham: Enabling or Disabling? Observations on Changes in Special Education - Cara Kronen: Selling Out: Parenting, the Realities of Urban Education, and the Hidden Curriculum in Schools - Doug Risner: What Matthew Shepard Would Tell Us: Gay and Lesbian Issues in Education.