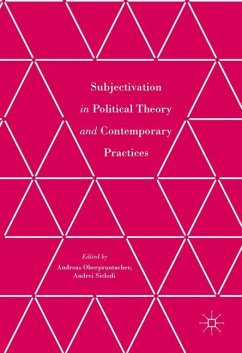 Andere Kunden interessierten sich
auch
für
Subjectivation in Political Theory and Contemporary Practices advances a trans-disciplinary reading by taking into account relevant debates that stretch from poststructuralism via postfordism to postdemocracy. In this sense, the book introduces readers to current approaches to subjectivation by displacing conventional understandings and suggesting unexpected reformulations.


Produktdetails
Artikelnr. des Verlages: 978-1-137-51658-9
1st ed. 2016
Seitenzahl: 372
Erscheinungstermin: 4. Januar 2017
Englisch
Abmessung: 216mm x 153mm x 25mm
ISBN-13: 9781137516589
ISBN-10: 1137516585
Artikelnr.: 45237670
0. Introducing a Contorted Subject Called 'Subjectivation'Andreas Oberprantacher & Andrei Siclodi Section 1: Re-Tracing Subjectivation 1. After the Subject is Before the Subject: On the Political Meaning of Subjectivation in Nancy and Lacoue-LabartheArtur R. Boelderl 2. The Excruciating Work of Love ...On Foucault's Kehre towards the SubjectAndrea Mubi Brighenti 3. On Theories of Subjectivity and the Practices of Political Subjectivation: Responsiveness, Dissent, and the Precarious Livability of Human LifeBurkhard Liebsch 4. Political Subjectivation and Metaphysical MovementSandra Lehmann
Es gelten unsere Allgemeinen Geschäftsbedingungen: www.buecher.de/agb
Impressum
www.buecher.de ist ein Shop der
buecher.de GmbH & Co. KG
Bürgermeister-Wegele-Str. 12,
86167 Augsburg
Amtsgericht Augsburg HRA 13309
Persönlich haftender Gesellschafter: buecher.de Verwaltungs GmbH
Amtsgericht Augsburg HRB 16890

Vertretungsberechtigte:
Günter Hilger, Geschäftsführer
Clemens Todd, Geschäftsführer

Sitz der Gesellschaft:Augsburg
Ust-IdNr. DE 204210010
---
Bitte wählen Sie Ihr Anliegen aus.