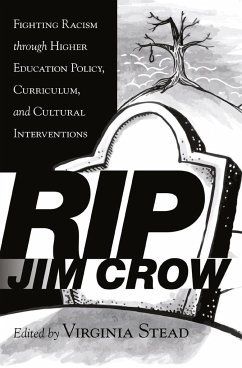 Andere Kunden interessierten sich
auch
für
Together we can build enough momentum to see Jim Crow lying silent and still in his grave.
This book shouts out ways that we can and must respond to the sickening accumulation of racially inspired and systemically sanctioned deaths. Today, we remember the passing of young, Black Michael Brown in Ferguson, Missouri. In responding to this event, we are determined to dismantle the alexithymia (indifference to the suffering of others) that pervades our campuses. It is nothing less than a by-product of racism protected by the illusion of democracy.
RIP Jim Crow contains three sections: (1) Antiracist Theory and Policy; (2) Antiracist Administration, Curriculum, and Pedagogy; and (3) Antiracist Cultural Interventions.
Each of the 31 chapters contributes to the normalization of anti-racist policy within academic institutions, antiracist discourse within academic cultures, and institutional praxis that upholds speaking out against racist activity. The hope is that this book will also reduce racism in the broader world through academic relationships with community partners.
Produktdetails
Equity in Higher Education Theory, Policy, and Praxis .6
Artikelnr. des Verlages: 313069
Neuausg.
Seitenzahl: 476
Erscheinungstermin: 8. Juni 2016
Englisch
Abmessung: 231mm x 155mm x 29mm
Gewicht: 770g
ISBN-13: 9781433130694
ISBN-10: 1433130696
Artikelnr.: 44160996
Contents: Virginia Stead: Preface ... and a Call to Action - A. Leslie Anderson/Lyle Q. Foster: Disturbing the Comfortable: Antiracism as an Institutional Value in Higher Education . - Mark Christian: Who's Afraid of the Black Male Scholar? A Voice from Within the Walls of Academia. - Shiv R. Desai: Racial Profiling, Trayvon Martin, and Preservice Teachers: From Disengagement to Activism. - Four Arrows (Wahinkpe Topa), aka Dr. Don Trent Jacobs: An Indigenous Perspective: Ending «Jim Crow» Through Worldview Studies Across the Curriculum. - Ambra L. Green/Jennifer M. McKenzie/Chad A. Rose: Absence of Color: How Higher Education Preparation Programs Are Sustaining Racism. - Punita Lumb: Muslim Perspectives on Racism and Equitable Practice in Canadian Universities - Jason Mendez/Sarah Vega: «Basta Ya!» «Enough!» «Pa'lante!». A Lesson on Latinidad Struggle and Activism in the Academy - Lisa Rochelle Brown: Spiral Dynamic Theory as an Instrument for Praxis: Memetic Racism and Cultural Transfer - Melanie M. Acosta/Bridgette G. Johnson/Charisse Hudson-Vassell/Michael Hudson-Vassell/Justin Hosbey: Casualties in the Classroom: How Critical Race Theory Is Weaponized to Safeguard White Supremacy - Nicole Pulliam/Pietro Sasso/Tina R. Paone/José M. Maldonado: Reducing Systemic Racism: Movements Toward Change in Higher Education . - Jennifer L. Martin/Martina L. Sharp-Grier: Toward a Kinder and Gentler Ivory Tower - Elizabeth C. Reilly: Bridges of Accessibility: Signature Pedagogies in Graduate Education - Carla Digiorgio: Leading Negotiation: Exploring the Experiences of Aboriginal Teacher Candidates in a Canadian Faculty of Education - Thomas W. Christ: Antiracist Curriculum and Pedagogy: Teaching Critical Theory, Participatory Action Research, and Narrative Storytelling to Reduce Oppression - Tara L. Affolter: There's a Black Kid in the Classroom and I Don't Want to Piss Him Off - Martha A. Brown/Traci P. Baxley: Transforming Whiteness in Teacher Education: The Call for Anti-Racist Pedagogy - Naomi W. Nishi: Hands Up, Don't Shoot! Indicting Remedial Education - Sherry L. Deckman/Ellie Fitts Fulmer/Nia Nunn Makepeace: Dangerous Black Professor: Challenging the Ghettoization of Race in Higher Education Through Life Texts Pedagogy - Crystal Renée Chambers and MaryBeth Walpole: Dissertation Advising and the Apartheid of Scholarship in Higher Education Leadership - Michele D. Smith/Cynthia J. MacGregor: Culturally Competent Faculty for the Future: Leading Forward in Addressing Racial Bias - Mona M. Abo-Zena: «I Can't Breathe!» Learning to Respect and Respond to Subtle and Acute Distress Calls - Joely Proudfit (Luiseño)/Linda Sue Warner (Comanche): Internecine Warfare: White Privilege and American Indians in Colleges and Universities - Chris C. Martin/Jacob C. W. Billings: Evolutionary, Neuroscientific, and Social Psychological Perspectives on Antiracism and Antisexism - Cheryl Ingram: Reconstruction of Enslaved Policy, Procedures, and Practice in Institutional, Political, Academic, and Social Spaces. - Wytress Richardson/Lauren Heidbrink/Amy L. Shirley Muhammad/Tara Bryant-Edwards: Black Learning Matters: Experiences of Exclusion and Lessons for Inclusion of Students of Color in Higher Education. - Clayton R. Alford: The Resurgence of Jim Crow in Education. - Rita Fields: When Riot Is Reason: How Higher Education Can Help Eradicate Institutional Racism - Marna Hauk (Prescott)/Veronica E. Bloomfield: Blanking Out «[ ]» (Whiteness): Decolonizing Systems of Domination and Reinhabiting Ancestral Place-Cultures - Frederick W.