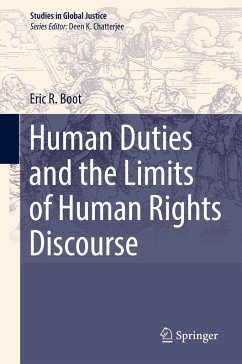 Andere Kunden interessierten sich
auch
für


The argument for this duty-based perspective is made by examining two particularly contentious duties: duties to aid the global poor and civic duties. These two duties serve as case studies and are explored from the perspectives of political theory, jurisprudence and moral philosophy. The argument is made that both these duties can only be adequately defined and allocated if we adopt the perspective of duties, as the predominant perspective of rights either does not recognize them to be duties at all or else leaves their content and allocation indefinite.

This renewed focus on duties does not wish to diminish the importance of rights. Rather, the duty-based perspective on morality will strengthen human rights discourse by distinguishing more strictly between genuine and inauthentic rights. Furthermore, a duty-based approach enriches our moral landscape by recognizing both duties of justice and duties of virtue. The latter duties are not less important or supererogatory, but function as indispensable complements to the duties prescribed by justice.

In this perceptive and exceptionally lucid book, Eric Boot argues that a duty-focused approach to morality will remedy the shortcomings he finds in the standard accounts of human rights. The study tackles staple philosophical topics such as the contrasts between duties of virtue and duties of justice and imperfect and perfect obligations. But more importantly perhaps, it also confronts the practical question of what our human rights duties are and how we ought to act on them. Boot's book is a splendid example of how philosophy can engage and clarify real world problems.

Kok-Chor Tan, Department of Philosophy, University of Pennsylvania


A lively and enjoyable defence of the importance of our having duties to fellow human beings in severe poverty. At a time when global justice has never been more urgent, this new book sheds much needed light.
Produktdetails
Studies in Global Justice 17
Verlag: Springer / Springer, Berlin
Artikelnr. des Verlages: 978-3-319-66956-4
1st ed. 2017
Erscheinungstermin: 1. Januar 2018
Englisch
Abmessung: 241mm x 160mm x 16mm
Gewicht: 456g
ISBN-13: 9783319669564
ISBN-10: 3319669567
Artikelnr.: 48782873