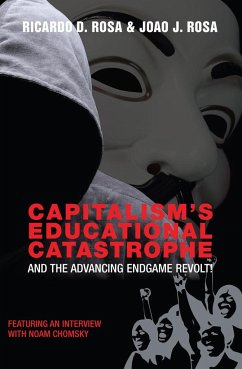 Produktdetails
Counterpoints .459
Artikelnr. des Verlages: 312459
Neuausg.
Erscheinungstermin: 10. April 2015
Englisch
Abmessung: 231mm x 154mm x 17mm
Gewicht: 380g
ISBN-13: 9781433124594
ISBN-10: 1433124599
Artikelnr.: 42571296
Contents: Charting the Neoliberal Nightmare and the Moral Outrage - Capital Movement and Global Displacement: Curricular Fatalities in the Age of Neoliberalism - the Case of Cape Verde - Performance Contracting and Supplemental Educational Services: Other Altars of Neoliberal Language Deception and Citizen Salvation - Education by Corporate Priorities, Youth Minds and Bodies under Arrest, and the Complexities of Resistance and Resignation - Raising Disquieting Questions in the Struggles Against Urban Violence - The Advancing Endgame Revolt! Dialogues with Activists and Community Organizers in the Trenches.
"Capitalism's Educational Catastrophe and the Advancing Endgame Revolt! is a brilliant analysis and call to arms against those market driven forces that are turning schools into adjuncts of corporate power. This book is insightful, passionate, beautifully written, and essential reading for anyone who is concerned about schooling as a foundation for critical thought, agency, and democracy." (Henry A. Giroux) "This important work is an angry book, but objectively angry, documenting how an educational system ostensibly designed to benefit students has been bent to serve the priorities of the economic elite in North America and internationally. In showing that "it is possible to imagine other worlds", it does for education what Naomi Klein's This Changes Everything has done for climate change." (Gabor Maté M.D., Author, In The Realm of Hungry Ghosts: Close Encounters With Addiction , Co-author, Hold On To Your Kids: Why Parents Need To Matter More Than Peers, Scattered: how attention deficit disorder originates and what you an do about it ) "Ricardo and Joao Rosa's impassioned and sweeping call to conscience exposes neoliberalism's intentions and designs, revealing the pervasiveness and destructiveness of a racialized capitalism that accumulates through dispossession. This searing indictment is counterbalanced by their active call to mobilize historical memory in the service of social democratic alternatives as part of a re-envisioning of the kind of education and curriculum that
can effectively stand up to this assault via the formation of progressive - indeed, radical - subjectivities." (Angela Valenzuela, author, Subtractive Schooling: U.S.-Mexican Youth and the Politics of Caring and professor, College of Education, University of Texas at Austin)