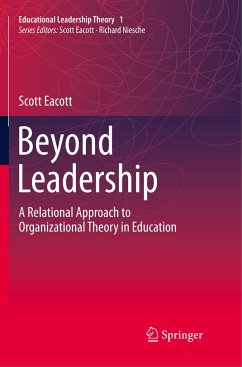 Andere Kunden interessierten sich
auch
für
relational" approach to organizational theory in education. Contributing to the relational trend in the social sciences, it first surveys relational scholarship across disciplines before providing a nuanced articulation of the relational research program and key concepts such as organizing activity, auctors, and spatio-temporal conditions. It also includes critical commentaries on the program from key figures such as Tony Bush, Megan Crawford, Fenwick English, Helen Gunter, Izhar Oplatka, Augusto Riveros, and Dawn Wallin. As such, the text models an approach to, or social epistemology for building knowledge claims in relation rather than through parallel monologues.

Eacott's relational approach provides a distinctive, post-Bourdieusian variant of the relational sociological project. Shifting the focus of inquiry from entities (e.g., leaders, organizations) to organizing activity and recognizing how auctors generate - simultaneously emerging from and constitutive of - spatio-temporal conditions unsettles the orthodoxy of organizational theory in educational administration and leadership. By presenting its claims in the context of other approaches, the book stimulates intellectual debate among both relational sociologists and opponents of relational approaches.

Beyond Leadership provides significant insights into the organizing of education. As it does not fit neatly into any one field, but instead blends educational administration and leadership, organizational studies, and relational sociology, among others, it charts new territory and promotes important dialogue and debate.


Produktdetails
Educational Leadership Theory
Verlag: Springer / Springer, Berlin
Artikelnr. des Verlages: 978-981-13-4904-1
Softcover reprint of the original 1st ed. 2018
Seitenzahl: 296
Erscheinungstermin: 30. Januar 2019
Englisch
Abmessung: 235mm x 155mm x 16mm
Gewicht: 453g
ISBN-13: 9789811349041
ISBN-10: 9811349045
Artikelnr.: 54772341
Part I: The relational turn in contemporary thought and analysis.- 1 From "leading" to "organizing".- 2 The relational turn in the social sciences.- 3 Towards relations in educational administration theory.- Part II: The relational extensions.- 4 Embedded and embodied auctors.- 5 Beyond "leadership".- 6 The matter of context.- 7 Overcoming analytical dualisms.- 8 Productive thinking.- Part III: Dialogue and debate.- 9 Advancing the intellectual development of the field.- 10 Relational leadership: New thinking or established ideas in "new clothes".- 11 Relational goods, democracy, and the paradox of epistemic Privilege.- 12 Educational administration and the relational approach: Can we suffice contextual-based knowledge production.- 13 Productive conversations from a feminist perspective.- 14 Thinking relationally about the school leader.- 15 Engaging with educational leadership relationally.- Part IV: Moving forward.- 16 Responding to commentaries.- 17 Advancing the relational program.


---
"This book provides extensive historical foundations for contemporary studies in educational administration. ... Thus, the book gives readers a sophisticated analytic lens that includes not only a dominant paradigm but also alternative ones with which to understand scholarship in the field. ... it contributes to stimulating our critical and innovative thinking in the field of educational leadership internationally." (Taeyeon Kim, Journal of Educational Administration and History, August, 2018)