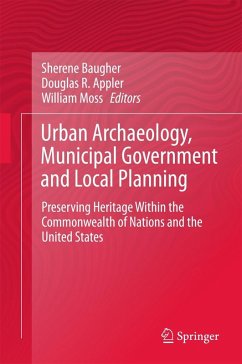 Andere Kunden interessierten sich
auch
für
This book will explore the experiences, both positive and negative, of small and large cities globally. We have examined programs in the Commonwealth of Nations (formerly known as the British Commonwealth) and in the United States. These countries share similar perspectives on preservation and heritage, although the approaches these cities have taken to address municipal archaeology reveals considerable diversity. The case studies highlight how these innovative partnerships have developed, and explain how they function within local government. Engaging with the political sphere to advocate for and conduct archaeology requires creativity, flexibility, and the ability to develop collaborative partnerships. How these archaeological partnerships benefit the community is a vital part of the equation. Heritage and tourist benefits are discussed. Economic challenges during downturns in the economy are analyzed. The book also examines public outreach programs and the grassroots efforts to protect and preserve a community's archaeological heritage.
---
Dieser Download kann aus rechtlichen Gründen nur mit Rechnungsadresse in A, B, BG, CY, CZ, D, DK, EW, E, FIN, F, GB, GR, HR, H, IRL, I, LT, L, LR, M, NL, PL, P, R, S, SLO, SK ausgeliefert werden.
Produktdetails
Verlag: Springer-Verlag GmbH
Erscheinungstermin: 28.07.2017
Englisch
ISBN-13: 9783319554907
Artikelnr.: 53061594
1. Thinking Globally, Acting Locally: Exploring the Relationships Between Community, Archaeological Heritage and Local Government.- Part I: The Challenges and Accomplishments of Local Government Archaeology Programs in the Commonwealth of Nations.- 2. Planning Archaeology in World Cities: Looking at London.- 3. Preservation, Participation, and the Pursuit of Knowledge: Strategic Policy and Archaeological Practice within the City of York 1989 to 2015.- 4. Crowdsourcing the Story of Bristol.- 5. Archaeological Resource Management in Toronto: Planning, Preservation and Interpretation.- 6. Under the Old Stones of Kingston, Ontario: The City of Kingston Archaeological Master Planning Process (2005-2011).- 7. Québec City's Archaeological Program and Provincial Cultural Heritage Legislation.- 8. Archaeology Down Under: Management and Outcomes in the First State in Australia.- 9. From Alliance to Dissonance: Two Centuries of Local Archaeology and Conservation in Indian Cities. The Case of Lucknow, India.- Part II: The Challenges and Accomplishments of Local Government Archaeology Programs in the United States.- 10. Towards a Theory of Municipal Archaeology: Why Local Government Should Become Public Archaeology's New Best Friend.- 11. We Dig Alexandria: A Reflection on More Than Fifty Years of Community Archaeology.- 12. Reflections on the New York City Archaeology Program (1980-2016).- 13. Digging the Hub: The Evolution of the City of Boston Archaeology Program.- 14. Phoenix Rising: The Development of a Municipal Archaeology Program in Arizona, USA.- 15. Municipal Archaeology Policies as a Vector in Public Outreach Programs: Digging Up Dirt for the Masses in St. Augustine, Florida.- 16. Like No Other Place: Albuquerque's Archaeological Odyssey.