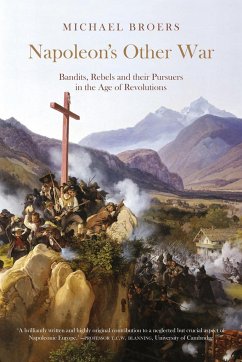 Andere Kunden interessierten sich
auch
für
Produktdetails
Artikelnr. des Verlages: 16510
Neuausg.
Erscheinungstermin: 15. Dezember 2017
Englisch
Abmessung: 223mm x 149mm x 30mm
Gewicht: 380g
ISBN-13: 9781906165109
ISBN-10: 1906165106
Artikelnr.: 50239692
CONTENTS: The Way Things Were: Bandits before the French Revolution - The Cradle of Disorder: France from Revolution to Civil War - The War behind the Lines: Taming Napoleonic Europe - The Bandit-chasers of Napoleonic Europe - Spain: The Birth of the Guerrilla . The Bandits' War? - Spanish America: A Hemisphere of Brigandage - The Balkans: The Bandits' Paradise - The People's Heroes: The Legacy of the Bandits - Conclusion: Bandits and the New Order.
---
Contenu: Géopolitique et territoire
Les concepts employés: Europe centrale, minorité, nation et territoire
Les perceptions du territoire
L'évolution du concept de la nation en Europe centrale: le poids de l'histoire
Démocratie libérale et Etat multi
ethnique
La minorité hongroise de Voïvodine
La question de la minorité hongroise de Voïvodine dans la politique étrangère de la Hongrie
L'influence des mutations géopolitiques sur le sud
est du continent européen.

"A brilliantly written and highly original contribution to a neglected but crucial aspect of Napoleonic Europe." (Professor T.C.W Blanning, University of Cambridge) "Michael Broers demonstrates in this lively and entertaining book that Napoleon's 'other war' against draft dodgers, deserters, bandits and guerrilla insurgents shaped Europe and the world as powerfully as conventional warfare ever did. This is a 'tour de force' of comparative history that very few scholars aside from Michael Broers could accomplish." (Professor John Lawrence Tone, Georgia Institute of Technology) "Michael Broers writes with [...] warmth and even compassion [...] It makes for an enjoyable and illuminating book." (Professor Alan Forrest, University of York) "In this book Michael Broers addresses the dirty little wars engendered by conquest, revolutionary reform and military policy in the Napoleonic era. His grasp of the sources is solid; his writing is passionate. His book deserves to become a classic." (Professor Clive Emsley, Open University) "Michael Broers has written a masterful study of banditry and insurgency in the Napoleonic age, one that in every way both complements and updates work by Eric Hobsbawm and Charles Esdaile. [...] This excellent study, well provided with maps and illustrations, should occupy pride of place on the desk of any student of modern-day insurgency and counter-insurgency." (Alex Marshall, War in History) "[T]he book is a splendid addition to the literature, and all
the more so as it is greatly enriched by comparative chapters on areas of Europe and the wider world that were never touched by the French armies, namely Spanish America and the Ottoman Balkans." (Charles Esdaile, Literary Review) "[T]his is an excellent and stimulating book, written with all the dashing prose of his mentor Richard Cobb, whom Broers warmly acknowledges." (D.M.G. Sutherland, The Journal of Military History)
"Michael Broers writes with ... warmth and even compassion ... It makes for an enjoyable and illuminating book." (Professor Alan Forrest, University of York)
"Michael Broers demonstrates in this lively and entertaining book that Napoleon's 'other war' against draft dodgers, deserters, bandits, and guerrilla insurgents shaped Europe and the world as powerfully as conventional warfare ever did. This is a 'tour de force' of comparative history that very few scholars aside from Michael Broers could accomplish." (Professor John Lawrence Tone, Georgia Institute of Technology)
"In this book Michael Broers addresses the dirty little wars engendered by conquest, revolutionary reform and military policy in the Napoleonic era. His grasp of the sources is solid; his writing is passionate. His book deserves to become a classic." (Professor Clive Emsley, Open University)
"A brilliantly written and highly original contribution to a neglected but crucial aspect of Napoleonic Europe." (Professor T.C.W. Blanning, University of Cambridge)
"(...) the book is a splendid addition to the literature, and all the more so as it is greatly enriched by comparative chapters on areas of Europe and the wider world that were never touched by the French armies, namely Spanish America and the Ottoman Balkans." (Charles Esdaile, Literary Review)
"(...) this is an excellent and stimulating book, written with all the dashing prose of his mentor Richard Cobb, whom Broers warmly acknowledges." (D.M.G. Sutherland, The Journal of Military History)
"Michael Broers has written a masterful study of banditry and insurgency in the Napoleonic age, one that in every way both complements and updates work by Eric Hobsbawm and Charles Esdaile. [...] This excellent study, well provided with maps and illustrations, should occupy pride of place on the desk of any student of modern-day insurgency and counter-insurgency." (Alex Marshall, War in History)
"[An] outstanding work on war, state building, and banditry during the revolutionary era." (Katherine B. Aaslestad, Journal of Social History, Spring 2013)