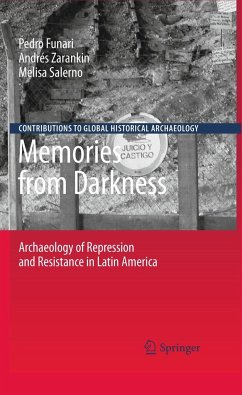 Andere Kunden interessierten sich
auch
für


Several Latin American dictatorships emerged during this period, particularly during the Cold War and the Cuban Revolution. Military regimes remained in power for decades, until internal and international changes allowed democracy to take over a firm hold.

Due to military and governmental upheaval, written sources on clandestine repression are scarce and fragmentary, with many of these sources destroyed deliberately by repressive governments. New archaeological methods must be employed to reconstruct the true history of this period, helping shed light on repressive mechanisms, to recover missing history.

Not only will the contributions of this important volume shed light on the specific case of Repression in Latin America, but the techniques described will be a valuable resources of information for archaeologists working to reconstruct other historical periods without reliable written sources, and shed light on the nature of political repression worldwide.
---
To Write What one Could Not Tell Anyone You who live in all tranquility So warm and comfortable in your houses, You who come home at night to find The table laid and friendly faces around you, Consider if this is a man, He who toils in the mud, Who knows no rest, Who fights for a crust of bread, Who dies for the slightest reason. Consider if this is a woman, She who has lost her name and her hair, And even the strength to remember, Her gaze blank and her bosom chilled, Like a frog in winter. Do not forget that this happened, No, do not forget it: Engrave these words in your heart. Think of them in your home, in the street, When you sleep, when you rise; Repeat them to your children. Or else your house will crumble, You will be overcome by illness, And your children will turn away from you (Levi 1987:9, the translations is mine). At Auschwitz, Filip Müller was assigned to the Sonderkommando. Every day, with his fellow prisoners, he emptied the gas chambers of their piles of defiled corpses and loaded them into the crematorium furnaces of the extermination camp.
Produktdetails
Contributions To Global Historical Archaeology
Verlag: Springer, Berlin
Artikelnr. des Verlages: 12513222
Erscheinungstermin: 5. Oktober 2009
Englisch
Abmessung: 245mm x 166mm x 23mm
Gewicht: 466g
ISBN-13: 9781441906786
ISBN-10: 1441906789
Artikelnr.: 26498050
Theoretical Discussions.- Torture, Truth, Repression and Archaeology.- Archaeology and Left in Colombia.- The Archaeology of Conflict in Brazil.- An Archaeological View of Political Repression in Uruguay (1971-1985).- Search for and Identification of Desaparecidos.- Forensic Archaeology and Anthropology: A Balance Sheet.- Clandestine detention centers.- The Materialization of Sadism; Archaeology of Architecture in Clandestine Detention Centers (Argentinean Military Dictatorship, 1976-1983).- Objects and Representations.- "They Must Have Done Something Wrong...": The Construction of "Subversion" as a Social Category and the Reshaping of Identities Through Body and Dress (Argentina, 1976-1983).- Scratching Behind the Walls; Graffiti and Symbolic Political Imagination at Cuartel San Carlos (Caracas, Venezuela).- Emblematic Case Studies.- The Archaeology of a Search: An Archaeological Search; The History of the Finding of "Che" Guevara's Remains.- "Mexico, 1968": Among Olympic Fanfares, Government Repression and Genocide.
"Memories from Darkness, edited by Pedro Funari, Andres Zarankin, and Melisa Salerno shows us the kind of archaeology that really matters, in a particularly important way. It contains a real mixture of papers, covering different aspects of repression and dictatorship in a number of South Amiercan countries...There are theoretical papers, scientific pieces, material culture studies and first hand accounts on Brazil, Venezuela, Mexico, Bolivia, and Argentina, all adequately illustrated and, we must be thankful given the range of exciting South American scholarship presented here, with individual bibliographies for each paper. This book is about freedom of speech. None of the papers end with something as restrictive as a 'Conclusion'; rather those that choose end with 'Final Remarks'--a reminder of the importance of individuality and subjectivity when archaeology chooses to discuss matters of life and death.

Most of the book verges on shocking, but only in that minute scales to which the archaeologists here go in discussing the conditions and effects of repression are not commonly reported at the distance from which I write. Occasionally the contents of the book are downright hard...Memories from Darkness also has useful opinion pieces at its start (Laurent Oliver) and end (Martin Hall) that, rather than disrupting the distinctly South American collection of papers, serve to set them in useful wider contexts. Overall, this is an important publication. Its style feels quite 'raw', but this fits the subject matter and ethos of the book well. Required reading for contemporary and conflict archaeologists, it will also be of particular use to those among the wider world of post-medieval archaeology who are unsure as to the importance of studying the recent past and the present."

James Dixon

Post Medieval Archaeology

46/2, (2012)