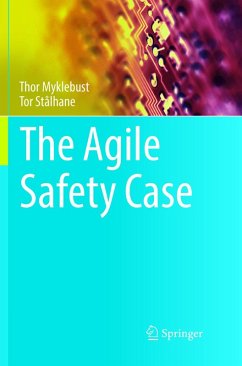 Andere Kunden interessierten sich
auch
für

The book discusses both "regular" safety cases and agile safety cases, which avoid too much documentation, improve communication between the stakeholders, allow quicker approval of the system, and which are important in the light of rapidly changing technology. In addition, it discusses the necessity of frequently updating software due to market requirements, changes in requirements and increased cyber-security threats.
After a general introduction to SCs and agile thinking in chapter 1, chapter 2 describes the majority of the roles that are relevant when developing railway-signaling systems. Next, chapter 3 provides information related to the assessment of signaling systems, to certifications based on IEC 61508 and to the authorization of signaling systems. Chapter 4 then explains how an agile safety plan satisfying the requirements given in EN 50126-1:1999 can be developed, while chapter 5 provides a brief introduction to safety case patterns and notations. Lastly, chapter 6 combines all this and describes how an (agile) SC can be developed and what it should include.
To ensure that infrastructure managers, suppliers, consultants and others can take full advantage of the agile mind-set, the book includes concrete examples and presents relevant agile practices. Although the scope of the book is limited to signaling systems, the basic foundations for (agile) SCs are clearly described so that they can also be applied in other cases.
Produktdetails
Artikelnr. des Verlages: 978-3-319-88912-2
Softcover reprint of the original 1st ed. 2018
Seitenzahl: 248
Erscheinungstermin: 4. Juni 2019
Englisch
Abmessung: 235mm x 155mm x 13mm
Gewicht: 396g
ISBN-13: 9783319889122
ISBN-10: 3319889125
Artikelnr.: 54898432
1 Introduction.- 2 Agile development.- Railway roles, assessment and authorisation.- 4 The Agile Safety Plan for signalling systems.- 5 Safety case patterns, notations and GSN.- 6 The Safety Case - Introduction and Definition of system.- 7 Safety case, Quality Management Report.- 8 Safety Management Report.- 9 Technical Safety Report.- 10 Related safety cases, Conclusion and Safety case references.