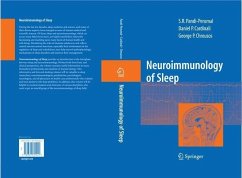 Andere Kunden interessierten sich
auch
für
---
Dieser Download kann aus rechtlichen Gründen nur mit Rechnungsadresse in A, B, BG, CY, CZ, D, DK, EW, E, FIN, F, GB, GR, HR, H, IRL, I, LT, L, LR, M, NL, PL, P, R, S, SLO, SK ausgeliefert werden.
Produktdetails
Verlag: Springer-Verlag GmbH
Erscheinungstermin: 19.08.2007
Englisch
ISBN-13: 9780387691466
Artikelnr.: 37286130
General Concepts.- Bidirectional Communication Between the Brain and the Immune System.- Neuroimmunological Correlates of Circadian Rhythmicity in Oral Biology and Medicine.- Circadian Organization of the Immune Response.- Basic Research.- The Biological Clock in Inflammation and Sleep Switch Alterations.- Vasoactive Intestinal Polypeptide and Prolactin Cytokines: Role in Sleep and Some Immune Aspects.- Immune Signaling to Brain: Mechanisms and Potential Pathways Influencing Sleep.- Aging, Sleep, and Immunity.- Cytokines and Sleep: Neuro-Immune Interactions and Regulations.- Selective REM Sleep Deprivation and Its Impact on the Immune Response.- Clinical Research.- Sleep and Immune Correlates: Translational Research in Clinical Populations.- The Stress of Inadequate Sleep and Immune Consequences.- Neuroimmunology of Pregnancy-Related Sleep Disturbances.- Changes in Sleep and Behavior Following Experimental Immune Stimulation Using Bacterial Endotoxin in Humans.- Inflammation and Sleep.- Neuroimmune Activation in Sleep Apnea.- Role and Circadian Rhythms of Proinflammatory Cytokines, Cortisol, and Melatonin in Children with Obstructive Sleep Apnea Syndrome.- Neuroendocrine-Immune Correlates of Sleep and Traumatic Brain Injury (TBI).- Neuroimmune Correlates of Sleep in Depression: Role of Cytokines.- Sleep and Neuroimmune Function in Chronic Fatigue Syndrome.- Narcolepsy with Cataplexy: Hypocretin and Immunological Aspects.