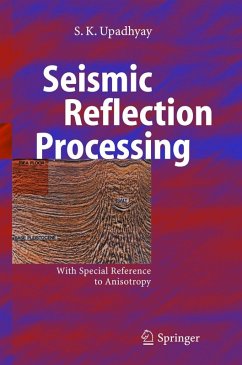 Andere Kunden interessierten sich
auch
für
Seismic Reflection Processing coherently presents the physical concepts, mathematical details and methodology for optimizing results of reservoir modelling, under conditions of isotropy and anisotropy. The most common form of anisotropy - transverse isotropy - is dealt with in detail. Besides, practical aspects in reservoir engineering - such as interval isotropic or anisotropic properties of layered media; identifying lithology, pore-fluid types and saturation; and determining crack/fracture-orientations and density - form the core of discussions. This book incorporates significant new developments in isotropic and anisotropic reflection processing, while organizing them to improve the interpretation of seismic reflection data and optimizing the modeling of hydrocarbon reservoirs. It is written primarily as a reference and tutorial for graduate/postgraduate students and research workers in geophysics.


Produktdetails
Artikelnr. des Verlages: 978-3-540-40875-8
2004
Seitenzahl: 656
Erscheinungstermin: 19. Juli 2004
Englisch
Abmessung: 241mm x 160mm x 39mm
Gewicht: 1139g
ISBN-13: 9783540408758
ISBN-10: 3540408754
Artikelnr.: 12634696
1 Introduction.- 2 Reflection - Data Acquisition.- 3 Reflection Seismograms and Steps in Processing.- 4 Attributes of Routine Reflection Processing and Pitfalls.- 5 Anisotropy Models of Sedimentary Sections and Characteristics of Wave Propagation.- 6 Ray Path, Wavefront Curvature, Normal Moveout Velocity (VNMO) and Subsurface Medium Properties.- 7 Reflection Time Analysis and Velocity for Isotropic Media.- 8 Reflection Time Analysis and Velocities for Transversely Isotropic (T.I.) Media.- 9 Analysis of t2-x2 Relations.- 10 Estimation of Anisotropy and Layer Parameters.- 11 Dip Moveout Processing and True Amplitude Imaging.- 12 Basic Reflection Theory for Anisotropic Models.- 13 Reflection Amplitude and AVO-Interpretation.- 14 Concepts and Methods in Seismic Migration.- 15 Imaging using Integral Solutions of Wave Equations.- 16 Miscellaneous Interpretation Tools.- 17 Exploration Value of Fracture-Induced Anisotropy.- 18 Future Vision.- 19 List of References.
From the reviews: "The author presents the physical concepts, mathematical details and methodology for optimizing results of reservoir modeling, under conditions of isotropy and anisotropy. ... The book incorporates significant new developments in isotropic and anisotropic reflection processing, while organizing them to improve the interpretation ... . The text contains exercises and problems, and solutions are provided for the exercises. It is written primarily for graduate/postgraduate students and research workers in geophysics." (First Break, Vol. 22, December, 2004)