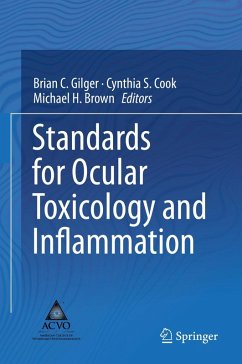 Produktdetails
Artikelnr. des Verlages: 978-3-319-78363-5
1st ed. 2018
Erscheinungstermin: 10. September 2018
Englisch
Abmessung: 241mm x 158mm x 20mm
Gewicht: 492g
ISBN-13: 9783319783635
ISBN-10: 3319783637
Artikelnr.: 51115310
Standards for Conducting Ophthalmic Examinations in Laboratory Animals.- Standard Operating Procedures for Common Ocular Experimental Procedures.- Harmonization of Lesion Nomenclature and Incidence of Disease.- Frequency of Spontaneous Ocular Lesions in Laboratory Animal Species.- Standard Ocular Irritation and Inflammation Scoring-Anterior and Posterior Segments.