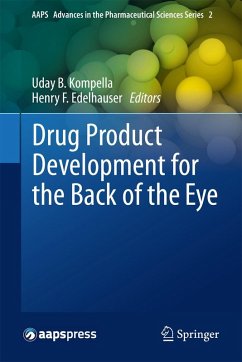 Produktdetails
AAPS Advances in the Pharmaceutical Sciences Series Vol.2
Verlag: Springer, Berlin
Artikelnr. des Verlages: 12778485
Erscheinungstermin: 3. März 2011
Englisch
Abmessung: 247mm x 167mm x 40mm
Gewicht: 1080g
ISBN-13: 9781441999191
ISBN-10: 1441999191
Artikelnr.: 33173094
Selection of Drug Delivery Approaches for the Back of the Eye: Opportunities and Unmet Needs.- Microdialysis for Vitreal Pharmacokinetics.- Fluorophotometry for Pharmacokinetic Assessment.- Systemic Route for Retinal Drug Delivery: Role of the Blood-Retinal Barrier.- Topical Drug Delivery to the Back of the Eye.- Principles of Retinal Drug Delivery from Within the Vitreous.- Transscleral Drug Delivery.- Suprachoroidal and Intrascleral Drug Delivery.- Advances in Biodegradable Ocular Drug Delivery Systems.- Microparticles as Drug Delivery Systems for the Back of the Eye.- Nanotechnology and Nanoparticles.- Hydrogels for Ocular Posterior Segment Drug Delivery.- Refillable Devices for Therapy of Ophthalmic Diseases.- Targeted Drug Delivery to the Eye Enabled by Microneedles.- Ocular Iontophoresis.- Drug and Gene Therapy Mediated by Physical Methods.- Protein Drug Delivery and Formulation Development.- Drug Suspension Development for the Back of the Eye.- Regulatory Considerations in Product Development for Back of the Eye.- Clinical Endpoints for Back of the Eye Diseases.- Druggable Targets and Therapeutic Agents for Disorders of the Back of the Eye.- Development of Bile Acids as Anti-Apoptotic and Neuroprotective Agents in Treatment of Ocular Disease.